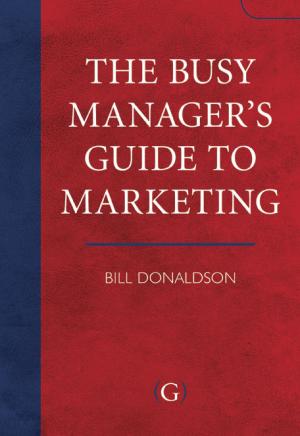 The Busy Manager's Guide to Marketing
Bill Donaldson
ISBN: 978-1-906884-06-2
---
The Busy Manager's Guide to Marketing
is a readable, accessible and easy-to-follow book for practising managers with limited time and big ambitions.
This book introduces the basic concepts of marketing and some of the jargon so that the subject can be understood and implemented. It explains what marketing is; why marketing is important to your organisation; and, in simple terms, the marketing strategies and plans to achieve your objectives. It will help you to identify where you organisation is headed and enable you to measure your results, control costs and enhance your revenues.
Coverage also includes:
how to conduct a marketing audit;
the key components of a marketing plan;
and separate chapters on service, quality and relationships, and international marketing.
Contents: Chapter 1 - The concept of marketing: Introduction, The concept of marketing; Chapter 2 - The marketing process: The process, The product, Segmentation, The marketing mix, Critical success factors, Marketing information system; Chapter 3 - Marketing analysis: Marketing audit, Competitor analysis, Customer analysis, Strengths, weaknesses, opportunities and threats analysis; Chapter 4 - The marketing planning process: Values and mission statement for the business, The key elements in the marketing plan, The product plan, The pricing plan, The distribution plan, The promotion plan, The marketing plan; Chapter 5 - Service, quality and relationships: Customer service, Empowerment, Customer satisfaction, Quality, Business relationships; Chapter 6 - From local to global: Cultural differences, Globalisation, Agency laws in the European Union, Organising marketing in foreign countries, Foreign marketing relationships; Final word
Bill Donaldson has taught, practised and researched in marketing for over 30 years. One time marketing manager, lecturer, consultant and now Professor, his motivation in writing this book is to emphasise the importance of marketing in adding value for a business and to help managers implement their marketing strategies, plans and programmes more effectively.
Publication and Prices
Pub Date: September 2009
Paperback: £14.99, Euro 18, US$ 24
E-Chapter: £4.99, Euro 5.99, US$ 7.99 each