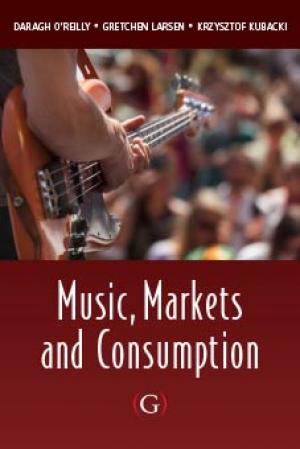 Music, Markets and Consumption
ISBN: 978-1-908999-52-8 pbk; 978-1-908999-51-1 hbk; 978-1-90899953-5 eBook
DOI: 10.23912/978-1-908999-52-8-2009
---
| | |
"O'Reilly, Larsen, and Kubacki have created a marvellous book that brings their collective music- and marketing-related wisdom to bear on a number of valuable insights into the consumption of culture and the marketing of musical offerings. I especially appreciate their pervasive focus on music and how it resembles / differs from other areas of art and entertainment. The authors investigate aspects of music as a profession, an industry, a cultural phenomenon, and - most importantly - a consumption experience. We consumers who love music - otherwise known as audiences - must feel grateful for such a thorough exploration of how and why we become fans, collectors, tribes, groupies, and disciples of this most passion-evoking art form."
Morris B. Holbrook, W. T. Dillard Professor Emeritus of Business, Columbia University, USA
"An admirably concise book, both scholarly and extremely readable. Anyone interested in the fascinating relationship between music and marketing will find its combination of history, recent research, and well-informed discussion an invaluable source of inspiration and fresh thinking."
Dr Terry O'Sullivan, Head of the Department for Strategy and Marketing, The Open University Business School
"This is something that is long overdue - at last a full reference work where the starting point is that music is not just a commodity to be bought and sold. It should be required reading for anyone studying the whole cultural production process as it details the entire structure and the differing roles of the numerous players involved. One can only hope that this book will help to stimulate debate in arts marketing practice, to approach cultural products with respect."
Robin Croft, University of Bedfordshire
"Music, Markets and Consumption succeeds in offering refreshing, critical and contemporary insight into a domain where other books have tended to offer only descriptive, practical understanding of music as a product. [It] will be of interest to researchers, students and others wanting to gain heightened awareness of current issues in a growing industry."
Dr Ian Fillis, Senior Lecturer, Stirling Management School, University of Stirling, UK
This book draws upon marketing and consumer studies theory to think through a range of issues within the music business, including:
Music as a 'product'
Musical brands
The music "consumer"
The marketing of live music
Musical tribes
The musician as marketer
The music business environment.
Music, Markets and Consumption
offers an up-to-date business-theoretical reading of the music business which complements viewpoints from other disciplines. It will be a much needed new perspective for students and scholars in music studies, cultural studies, marketing and consumer studies who wish to gain further insight into commercial aspects of music.
Publication and Prices
Pub Date: May 2013
Hardback: £75, Euro 98, US$ 120
Paperback: £29.99, Euro 36, US$ 48
E-Chapter: £4.99, Euro 5.99, US$ 7.99 each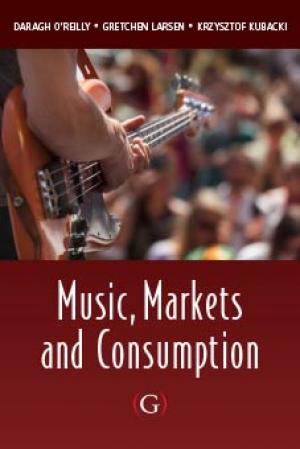 About the authors
Dr Daragh O'Reilly''', Management School, University of Sheffield
Dr Gretchen Larsen
, Department of Management, King's College London
Dr Krzysztof Kubacki
, Griffith Business School, Griffith University