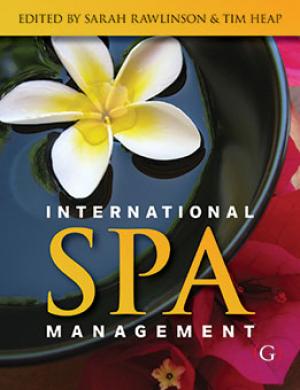 International Spa Management
Principles and practice
ISBN: 978-1-910158-69-2 HBK; 978-1-910158-70-8 PBK; 978-1-910158-71-5 eBook
---
| | | |
The first text to provide a thorough insight into the world of spa management – an international growth phenomenon;
Written by a team of industry and academic experts from a leading instution in the field of spa management education;
Look at all aspects of spa management from HR and training, to marketing and finance;
Responds to calls for more rigorous research in the field of spa and provides a much needed text for the study of spa.
The spa industry is big business - it's estimated worth is $60 billion, and averages 18% annual growth. The number of day spas has increased by 34.4% globally, from 2003 to 2006; in the same period the number of medical spa locations more than doubled.
Even though spa has a long and extensive history, spa education is relatively new, with education at degree level newly introduced across the world. This is in response to the current recognised shortage currently of adequately trained and experienced individuals across all levels in the industry.
International Spa Management
is the first text to address these industry needs. It provides a sound and thorough guide for all future spa managers looking at all aspects on the successful running of a spa facility. Divided into four parts it discusses the following:
The spa industry: types (mineral and thermal) and destinations
The spa consumer: behaviour, service and spa design
The business of spas: marketing, operations, finance and training
Future directions: strategizing for the future
About the Editors
Sarah Rawlinson
, Head of Department Hotel Resort and Spa Management, University of Derby, UK
Tim Heap
, University Principal Lecturer, University of Derby, UK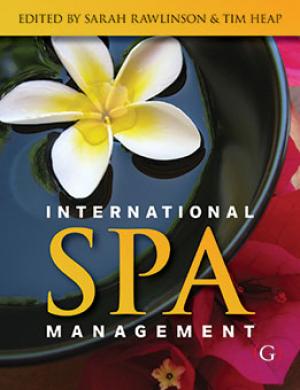 Table of contents
Part 1 The Spa Industry: Ch 1 History and Growth of the Spa Industry (I Stockdale and S Rawlinson); Ch 2 Introduction to Today's International Spa Industry (I Stockdale); Ch 3 Spa Destinations (I Azara); Ch 4 Eco Spas and the Sustainability Agenda (I Azara); Ch 5 Mineral Springs and Thermal Spas (L Buxton); Ch 6 The Hybrid Spa – is it Really Still a Spa?(A McGillion); Part 2 The Spa Consumer: Ch 7 From Pampering to Prevention (I Stockdale and P Mandelartz); Ch 8 Guest Behaviour (I Azara); Ch 9 Guest Service and the Guest Journey (Y Huxley and L Baker); Ch 10 Spa Design; (Y Huxley and I Stockdale); Ch 11 Selling the Total Spa Product (L Buxton); Part 3 The Business of Spas: Ch 12 Marketing Spas (E Michopoulou); Ch 13 HRM in Spas (O Ramsbottom); Ch 14 Spa Operations (T Loynes and Y Huxley); Ch 15 Training and Development in Spas (S Rawlinson); Ch 16 Finance for Spas(V Higgs); Ch 17 Strategy and Leadership in Spas (T Heap); Part 4 Future Directions: Ch 18 Future Directions (T Heap and S Rawlinson)
Table of contents
Part 1 The Spa Industry: Ch 1 History and Growth of the Spa Industry (I Stockdale and S Rawlinson); Ch 2 Introduction to Today's International Spa Industry (I Stockdale); Ch 3 Spa Destinations (I Azara); Ch 4 Eco Spas and the Sustainability Agenda (I Azara); Ch 5 Mineral Springs and Thermal Spas (L Buxton); Ch 6 The Hybrid Spa – is it Really Still a Spa?(A McGillion); Part 2 The Spa Consumer: Ch 7 From Pampering to Prevention (I Stockdale and P Mandelartz); Ch 8 Guest Behaviour (I Azara); Ch 9 Guest Service and the Guest Journey (Y Huxley and L Baker); Ch 10 Spa Design; (Y Huxley and I Stockdale); Ch 11 Selling the Total Spa Product (L Buxton); Part 3 The Business of Spas: Ch 12 Marketing Spas (E Michopoulou); Ch 13 HRM in Spas (O Ramsbottom); Ch 14 Spa Operations (T Loynes and Y Huxley); Ch 15 Training and Development in Spas (S Rawlinson); Ch 16 Finance for Spas(V Higgs); Ch 17 Strategy and Leadership in Spas (T Heap); Part 4 Future Directions: Ch 18 Future Directions (T Heap and S Rawlinson)
About the authors
Sarah Rawlinson
, Head of Department Hotel Resort and Spa Management, University of Derby, UK
Tim Heap
, University Principal Lecturer, University of Derby, UK
Table of contents
Part 1 The Spa Industry: Ch 1 History and Growth of the Spa Industry (I Stockdale and S Rawlinson); Ch 2 Introduction to Today's International Spa Industry (I Stockdale); Ch 3 Spa Destinations (I Azara); Ch 4 Eco Spas and the Sustainability Agenda (I Azara); Ch 5 Mineral Springs and Thermal Spas (L Buxton); Ch 6 The Hybrid Spa – is it Really Still a Spa?(A McGillion); Part 2 The Spa Consumer: Ch 7 From Pampering to Prevention (I Stockdale and P Mandelartz); Ch 8 Guest Behaviour (I Azara); Ch 9 Guest Service and the Guest Journey (Y Huxley and L Baker); Ch 10 Spa Design; (Y Huxley and I Stockdale); Ch 11 Selling the Total Spa Product (L Buxton); Part 3 The Business of Spas: Ch 12 Marketing Spas (E Michopoulou); Ch 13 HRM in Spas (O Ramsbottom); Ch 14 Spa Operations (T Loynes and Y Huxley); Ch 15 Training and Development in Spas (S Rawlinson); Ch 16 Finance for Spas(V Higgs); Ch 17 Strategy and Leadership in Spas (T Heap); Part 4 Future Directions: Ch 18 Future Directions (T Heap and S Rawlinson)
About the authors
Sarah Rawlinson
, Head of Department Hotel Resort and Spa Management, University of Derby, UK
Tim Heap
, University Principal Lecturer, University of Derby, UK
Sample files
Contents, Copyright and Acknowledgement.pdf
Chapter 1.pdf
Chapter 2.pdf
Chapter 3.pdf
Chapter 4.pdf
Chapter 5.pdf
Chapter 6.pdf
Chapter 7.pdf
Chapter 8.pdf
Chapter 9.pdf
Chapter 10.pdf
Chapter 11.pdf
Chapter 12.pdf
Chapter 13.pdf
Chapter 14.pdf
Chapter 15.pdf