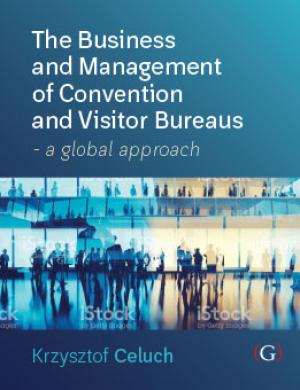 The Business and Management of Convention and Visitor Bureaus
A global approach
ISBN: 9781911396796 HBK; 9781911396802 PBK; 9781911396819 eBook
DOI: 10.23912/9781911396796-4334
---
| | | |
Meetings are a major source of revenue for the countries and cities and that host them. But competition to win meetings and events is growing fast as new Convention and Visitors Bureaus are opening up all over the world and existing are expanding and modernizing their offer in order to increase their share of this market.
However, in cities and countries busy sales and marketing staff, politicians and local authorities often struggle to keep up to date with the many tools and techniques that can help them bring business to their locations. New staff in particular often feel the need for a structured, comprehensive guide to sources of business for their destination as well as detailed instruction on the most effective ways of bringing meetings and events to fill their meetings spaces, restaurants, venues and create loyal clients.
The Business and Management of Convention and Visitor Bureaus – a global approach
is the solution to these issues. It provides a clear and comprehensive guide to the wide range of techniques required by sales and marketing staff to effectively win meetings and events business for their destination. Accessible, global and informative, this is essential reading for all future business event and conference managers, destination managers as well clients and meeting planners.
Publication date: Nov 2019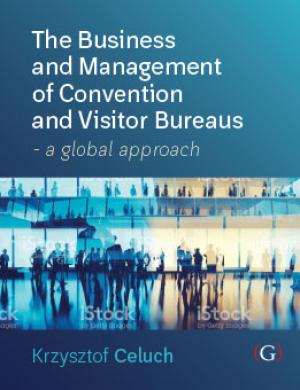 Table of contents
1. The meetings industry – an overview and structure
a. Relationship between the meetings industry and tourism
b. Fundamentals of the meetings industry
c. The products of the meetings industry
d. Identifying meetings industry stakeholders
2. The business environment of destination marketing
a. Relationship between marketing and destination marketing
b. Fundamentals of the destination marketing
3. Managing stakeholders to destination marketing
a. Identifying CVB stakeholders
b. Developing stakeholder management strategies
c. Identifying CVB customer
d. Developing customers management
4. Leading industry organizations in destination marketing
a. Activities of international organizations
b. Roles of global organisations
5. Historical Foundations of the CVB Industry
a. Relations between the meetings industry and tourism
b. Meetings industry growth prior to Detroit
c. History of CVB industry
6. Managing the financial, governance and legal considerations of CVB
a. Setting the goals and objectives
b. Legal structures
c. Organizing CVB staff
7. Managing the selling and marketing of the destination
a. Managing the Annual Marketing and Sales Planning Process
b. Marketing strategies
c. Branding
d. Management of direct sales
e. Types pf measures
8. Developing the CVB staff
a. Staff roles and CVB structure
b. Skills, training and experience
9. Future Challenges of the CVB
a. CVB today and tomorrow
b. Effectiveness of meetings organization
c. Funding and governance
d. Generations approach
e. Communication process
f. Technological change
10. Glossary
Table of contents
1. The meetings industry – an overview and structure
a. Relationship between the meetings industry and tourism
b. Fundamentals of the meetings industry
c. The products of the meetings industry
d. Identifying meetings industry stakeholders
2. The business environment of destination marketing
a. Relationship between marketing and destination marketing
b. Fundamentals of the destination marketing
3. Managing stakeholders to destination marketing
a. Identifying CVB stakeholders
b. Developing stakeholder management strategies
c. Identifying CVB customer
d. Developing customers management
4. Leading industry organizations in destination marketing
a. Activities of international organizations
b. Roles of global organisations
5. Historical Foundations of the CVB Industry
a. Relations between the meetings industry and tourism
b. Meetings industry growth prior to Detroit
c. History of CVB industry
6. Managing the financial, governance and legal considerations of CVB
a. Setting the goals and objectives
b. Legal structures
c. Organizing CVB staff
7. Managing the selling and marketing of the destination
a. Managing the Annual Marketing and Sales Planning Process
b. Marketing strategies
c. Branding
d. Management of direct sales
e. Types pf measures
8. Developing the CVB staff
a. Staff roles and CVB structure
b. Skills, training and experience
9. Future Challenges of the CVB
a. CVB today and tomorrow
b. Effectiveness of meetings organization
c. Funding and governance
d. Generations approach
e. Communication process
f. Technological change
10. Glossary
About the authors
Krzysztof Celuch, PhD., Warsaw School of Tourism and Hospitality Management, Poland
Table of contents
1. The meetings industry – an overview and structure
a. Relationship between the meetings industry and tourism
b. Fundamentals of the meetings industry
c. The products of the meetings industry
d. Identifying meetings industry stakeholders
2. The business environment of destination marketing
a. Relationship between marketing and destination marketing
b. Fundamentals of the destination marketing
3. Managing stakeholders to destination marketing
a. Identifying CVB stakeholders
b. Developing stakeholder management strategies
c. Identifying CVB customer
d. Developing customers management
4. Leading industry organizations in destination marketing
a. Activities of international organizations
b. Roles of global organisations
5. Historical Foundations of the CVB Industry
a. Relations between the meetings industry and tourism
b. Meetings industry growth prior to Detroit
c. History of CVB industry
6. Managing the financial, governance and legal considerations of CVB
a. Setting the goals and objectives
b. Legal structures
c. Organizing CVB staff
7. Managing the selling and marketing of the destination
a. Managing the Annual Marketing and Sales Planning Process
b. Marketing strategies
c. Branding
d. Management of direct sales
e. Types pf measures
8. Developing the CVB staff
a. Staff roles and CVB structure
b. Skills, training and experience
9. Future Challenges of the CVB
a. CVB today and tomorrow
b. Effectiveness of meetings organization
c. Funding and governance
d. Generations approach
e. Communication process
f. Technological change
10. Glossary
About the authors
Krzysztof Celuch, PhD., Warsaw School of Tourism and Hospitality Management, Poland
Sample files
Cover, contents and copyright.pdf
Chapter 1.pdf
Chapter 2.pdf
Chapter 3.pdf
Chapter 4.pdf
Chapter 5.pdf
Chapter 6.pdf
Chapter 7.pdf
Chapter 8.pdf