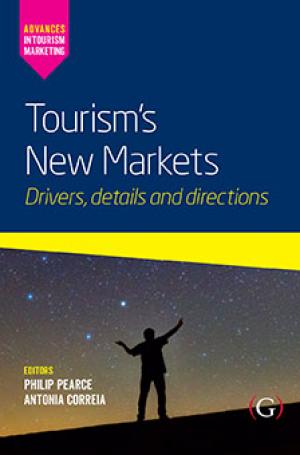 Tourism's New Markets
Drivers, details and directions
ISBN: 9781911635628 HBK; 9781911635635 PBK; 9781911635642 eBook
DOI: 10.23912/9781911635628-4294
---
| | | |
Tourism is facing new challenges. The number of tourists in the world is increasing, new segments are emerging and their flows are shifting.
Tourism's New Markets: Drivers, details and directions
explores these new segments and markets and all their different needs, interests and cultures. Emerging markets are in countries with an increasing economic performance (such as Asia and the Middle East) and with the largest populations (including India, China, Indonesia, Brazil, Argentina, Mexico)and it is expected that other emerging source markets will add to those recently observed from the giants (China and Russian Federation) as major tourist newcomers.
Changes such as an ageing population, the growth of megalopolises and the decline of the traditional nuclear family lead to the creation of new market segments, all which have new interests and demands. This edited volume looks at the consumer needs of seniors, millennials, pleasure tourists, singleton tourists, Muslim travellers, nationality based cohorts as well as cross-generational segments, luxury travel and unique special interest groups amongst others. With contributions from international experts in the field,
Tourism's New Markets: Drivers, details and directions
provides a research-led perspective to:
Explore and understand emerging markets and segments
Identify the most effective marketing strategies to build emerging markets and segments
Create a body of knowledge that shapes the boundaries of marketing to reach an orientalised and market perspective
Compare developing markets with emerging ones
Offer a global perspective of marketing and tourists' behaviours and build a comparative framework of developed and emerging markets
Develop a new research framework to excel in emerging markets
A must have volume for higher level undergraduates, graduate students and practitioners in the fields of tourism, it is contextualised throughout with international case studies and examples to provide a real world perspective.
Part of the Advances in Tourism Marketing series: cutting-edge research-informed edited books that introduce the reader to a range of contemporary marketing phenomena in the domain of travel and tourism. Authored by leading academics in their fields of research interest, each book brings together a selection of related themes with individual chapters contributing theoretical, methodological, policy-related and/or practical outcomes for the reader. Series editors: Alan Fyall, UCF, USA, Metin Kozak, Dokuz Eylul University, Turkey and Antónia Correia, Universidade do Algarve, Portugal.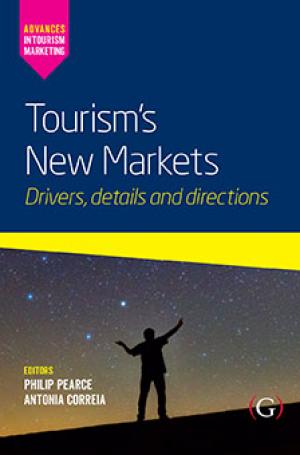 Table of contents
Ch 1 Introduction: Traversing an unprecedented divide (Philip L. Pearce and Antónia Correia)

Part I: Drivers of the new globally significant tourism markets
Ch 2 Post-communist tourism in Cambodia (Noel Scott and Bill Carter)
Ch 3 New edges from China: Emerging tourism markets driven by young Chinese (Jing Li and Ding Xu)
Ch 4 A panorama of Muslim tourists' queries: What do they want to know about travelling? (Hera Oktadiana)
Ch 5 Creating the new coffee tourism market: Disneyization processes at work in Indonesia (Heri P.D. Setiyorini)
Ch 6 Failures and successes in emerging and developed tourism markets (Edina Ajanovic and Beykan Çizel)

Part II: Niche and distinctive new tourism market groups
Ch 7 Astronomy tourism: A rising star among niche markets (Junjie (Teddy) Wen)
Ch 8 Motivations, preferences and personality of senior tourists: Cross-cultural comparison between American and Chinese groups (Felix Elvis Otoo and Seongseop (Sam)Kim)
Ch 9 Popular culture tourism: trend or transition? (Valeriya Radomskaya)
Ch 10 Paranormal tourism: Old beliefs and new markets (Chonlada Pharino)
Ch 11 Listening to children as a tourism market: The Asian context (Zohre Mohammadi)
Ch 12 Tourism luxury values: a global approach (Antónia Correia, Helena Reis and Vahid Ghasemi)

Part III: New ways of marketing to emerging tourist markets
Ch 13 Long-stay tourists and the world of international retirement
migration (Simon Hudson and Louise Hudson)
Ch 14 Investigating the affective image of emerging tourism destinations (Adriana F. Chim-Miki, Metin Kozak and Edvan Cruz Aguiar)
Ch 15 Regional destination branding in a developing country context (Mostafa Selima, Alan Fyall and Giulio Ronzoni)
Ch 16 Authenticity and aesthetics of global tourists' experiences (Eunkyung Park)
Ch 17 Misbehaviours of emerging tourism markets (Philip L. Pearce)
Ch 18 New markets and selling hope in a changed tourism world (Philip L. Pearce and Antónia Correia)
Ch 19 Conclusion (Antónia Correia and Philip L. Pearce)
Index
Table of contents
Ch 1 Introduction: Traversing an unprecedented divide (Philip L. Pearce and Antónia Correia)

Part I: Drivers of the new globally significant tourism markets
Ch 2 Post-communist tourism in Cambodia (Noel Scott and Bill Carter)
Ch 3 New edges from China: Emerging tourism markets driven by young Chinese (Jing Li and Ding Xu)
Ch 4 A panorama of Muslim tourists' queries: What do they want to know about travelling? (Hera Oktadiana)
Ch 5 Creating the new coffee tourism market: Disneyization processes at work in Indonesia (Heri P.D. Setiyorini)
Ch 6 Failures and successes in emerging and developed tourism markets (Edina Ajanovic and Beykan Çizel)

Part II: Niche and distinctive new tourism market groups
Ch 7 Astronomy tourism: A rising star among niche markets (Junjie (Teddy) Wen)
Ch 8 Motivations, preferences and personality of senior tourists: Cross-cultural comparison between American and Chinese groups (Felix Elvis Otoo and Seongseop (Sam)Kim)
Ch 9 Popular culture tourism: trend or transition? (Valeriya Radomskaya)
Ch 10 Paranormal tourism: Old beliefs and new markets (Chonlada Pharino)
Ch 11 Listening to children as a tourism market: The Asian context (Zohre Mohammadi)
Ch 12 Tourism luxury values: a global approach (Antónia Correia, Helena Reis and Vahid Ghasemi)

Part III: New ways of marketing to emerging tourist markets
Ch 13 Long-stay tourists and the world of international retirement
migration (Simon Hudson and Louise Hudson)
Ch 14 Investigating the affective image of emerging tourism destinations (Adriana F. Chim-Miki, Metin Kozak and Edvan Cruz Aguiar)
Ch 15 Regional destination branding in a developing country context (Mostafa Selima, Alan Fyall and Giulio Ronzoni)
Ch 16 Authenticity and aesthetics of global tourists' experiences (Eunkyung Park)
Ch 17 Misbehaviours of emerging tourism markets (Philip L. Pearce)
Ch 18 New markets and selling hope in a changed tourism world (Philip L. Pearce and Antónia Correia)
Ch 19 Conclusion (Antónia Correia and Philip L. Pearce)
Index
About the authors
Professor Philip Pearce, was Foundation Professor of Tourism, Distinguished Professor
College of Business, Law & Governance, James Cook University, Australia, and Antónia Correia, Ph.D., Professor of Tourist Behaviour and Tourism Economics, University of Algarve, Portugal
Table of contents
Ch 1 Introduction: Traversing an unprecedented divide (Philip L. Pearce and Antónia Correia)

Part I: Drivers of the new globally significant tourism markets
Ch 2 Post-communist tourism in Cambodia (Noel Scott and Bill Carter)
Ch 3 New edges from China: Emerging tourism markets driven by young Chinese (Jing Li and Ding Xu)
Ch 4 A panorama of Muslim tourists' queries: What do they want to know about travelling? (Hera Oktadiana)
Ch 5 Creating the new coffee tourism market: Disneyization processes at work in Indonesia (Heri P.D. Setiyorini)
Ch 6 Failures and successes in emerging and developed tourism markets (Edina Ajanovic and Beykan Çizel)

Part II: Niche and distinctive new tourism market groups
Ch 7 Astronomy tourism: A rising star among niche markets (Junjie (Teddy) Wen)
Ch 8 Motivations, preferences and personality of senior tourists: Cross-cultural comparison between American and Chinese groups (Felix Elvis Otoo and Seongseop (Sam)Kim)
Ch 9 Popular culture tourism: trend or transition? (Valeriya Radomskaya)
Ch 10 Paranormal tourism: Old beliefs and new markets (Chonlada Pharino)
Ch 11 Listening to children as a tourism market: The Asian context (Zohre Mohammadi)
Ch 12 Tourism luxury values: a global approach (Antónia Correia, Helena Reis and Vahid Ghasemi)

Part III: New ways of marketing to emerging tourist markets
Ch 13 Long-stay tourists and the world of international retirement
migration (Simon Hudson and Louise Hudson)
Ch 14 Investigating the affective image of emerging tourism destinations (Adriana F. Chim-Miki, Metin Kozak and Edvan Cruz Aguiar)
Ch 15 Regional destination branding in a developing country context (Mostafa Selima, Alan Fyall and Giulio Ronzoni)
Ch 16 Authenticity and aesthetics of global tourists' experiences (Eunkyung Park)
Ch 17 Misbehaviours of emerging tourism markets (Philip L. Pearce)
Ch 18 New markets and selling hope in a changed tourism world (Philip L. Pearce and Antónia Correia)
Ch 19 Conclusion (Antónia Correia and Philip L. Pearce)
Index
About the authors
Professor Philip Pearce, was Foundation Professor of Tourism, Distinguished Professor
College of Business, Law & Governance, James Cook University, Australia, and Antónia Correia, Ph.D., Professor of Tourist Behaviour and Tourism Economics, University of Algarve, Portugal
Sample files
Cover, copyright and contents.pdf
Chapter 1.pdf
Chapter 2.pdf
Chapter 3.pdf
Chapter 4.pdf
Chapter 5.pdf
Chapter 6.pdf
Chapter 7.pdf
Chapter 8.pdf
Chapter 9.pdf
Chapter 10.pdf
Chapter 11.pdf
Chapter 12.pdf
Chapter 13.pdf
Chapter 14.pdf
Chapter 15.pdf
Chapter 16.pdf
Chapter 17.pdf
Chapter 18.pdf
Chapter 19.pdf
Index.pdf