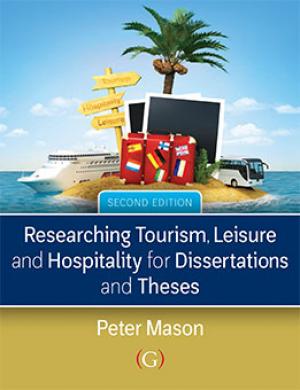 Researching Tourism, Leisure and Hospitality for Dissertations and Theses 2nd edition
ISBN: 9781915097002 HBK;9781915097019 PBK; 9781915097026 eBook
DOI: 10.23912/9781915097002-4976
---
| | | |
Reviews of the first edition
"…clearly written with the aim of extending help and support to students in… the most crucial component of their dissertation…useful and accessible…"
Tourism Management 50 (2015) 55e56
"…an easy to read, user-friendly text. … and provides a solid foundation on which to build."
Annals of Leisure Research, July 2015
Writing a dissertation can be a daunting topic -
Researching Tourism, Leisure and Hospitality for Dissertations and Theses 2nd edition
is a unique text that takes away the stress, worry and confusion by providing a step-by-step, user friendly guide to all you need to know to successfully research and compile your dissertation or thesis. Now in its second edition, this bestselling text has been fully revised and updated, and now includes two new chapters looking at conducting mixed methods research, as well as analysing mixed methods research.
Clearly links research processes with the presentation of these in the writing of dissertations and theses.
Draws on the work of undergraduate, postgraduate and PhD students the author has supervised, over 30 years to provide examples of dissertation/theses material.
Uses case studies/examples based on the author's own peer reviewed research.
Written in an accessible style.
Presents tried and tested student activities.
It provides a discussion of research approaches, looking at key differences and similarities. A critical evaluation of these different approaches is provided and, importantly, a discussion on selecting the appropriate approach(es) for your dissertation. It takes the reader from the initial idea and topics, through the literature review, methodology, presenting and analysing results and successfully making conclusions.
Unlike other texts available, this book includes case studies based on the author's own research, as well as students' work, to demonstrate different research approaches and techniques, providing an opportunity for criticism and a discussion on 'learning from mistakes.'
A must-have text for all students on how best to conduct research, compile your findings and to present them in the resulting dissertation.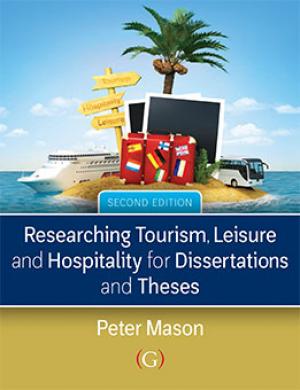 Table of contents
Ch 1 An Introduction to Research; Ch 2 The Literature Review; Ch 3 Research Philosophy and Research Design; Ch 4 Quantitative Research Techniques and Conduct; Ch 5 Qualitative Research Techniques and Conduct; Ch 6 Mixed Methods Research; Ch 7 Presentation of Results; Ch 8 Quantitative Data Analysis' Ch 9 Qualitative Data Analysis; Ch 10 Mixed Methods Analysis; Ch 11 Conclusions; References; Examples of useful websites; Index
Table of contents
Ch 1 An Introduction to Research; Ch 2 The Literature Review; Ch 3 Research Philosophy and Research Design; Ch 4 Quantitative Research Techniques and Conduct; Ch 5 Qualitative Research Techniques and Conduct; Ch 6 Mixed Methods Research; Ch 7 Presentation of Results; Ch 8 Quantitative Data Analysis' Ch 9 Qualitative Data Analysis; Ch 10 Mixed Methods Analysis; Ch 11 Conclusions; References; Examples of useful websites; Index
About the authors
Peter Mason
is Visiting Professor of Tourism, London South Bank University, is a visiting professor at the Ecole Superieure Hotellerie, Paris, and has a fractional position as Senior Lecturer, London Metropolitan University, UK