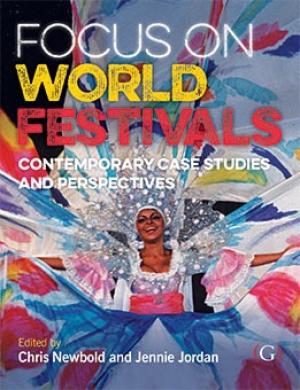 Focus on World Festivals
Contemporary case studies and perspectives
ISBN: 978-1-910158-55-5 HBK; 978-1-910158-56-2 PBK; 978-1-910158-57-9 eBook
DOI: 10.23912/978-1-910158-55-5-2822
---
| | | |
Focus on World Festivals: Contemporary case studies and perspectives
provides the reader with a contemporary overview of festival activity from around the world based on over 30 case studies drawn from every continent. Through its case-study focus this book can be utilised in several ways; to examine different types and genres of festivals across the world; to consider in detail specific festivals in specific contexts; to look at management and organisational issues in festival provision, and to illustrate debates and theories pertaining to festivals throughout the world.
This book is a companion to
Focus on Festivals
, it is written by a varied mix of academics, practitioners and cultural commentators. It expands many of the central themes and issues to reach a global understanding of festivals.
The key themes this book discusses are: –
The nature of festivals, festivalisation and the growth of festival provision around the world
Interest in festival's potential economic, social, place-making and political impacts
Festivals as 'glocal' players
The relationship between festivals and tourism
The management and business of festivals in different locations responding to differing social, political and market contexts
The role of festivals in identity making
Festivals as sites of participation, co-creation and experiences
It is a dynamic and indispensable text for students in arts and festivals management, events, tourism, creative industries, cultural and public policy, music industry and management courses as well as for festival and events managers, public authorities and existing and potential sponsors.
Through the variety of festivals illustrated in this book, the reader will discover that much about the nature of festivals crosses borders, they are a recognisable and growing part of societal and cultural delivery around the globe; their impacts, economic, social and cultural are a major driver in their development; their popularity with audiences, arts organisations and performers is undiminished in this ever-expanding cultural phenomenon of festivals.
Pub Date: February 2016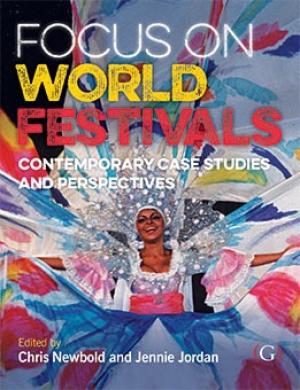 Table of contents
Editors' Introduction: Focusing on World Festivals (Chris Newbold and Jennie Jordan); Section 1: Understanding Festivals: Introduction (Jennie Jordan); Ch 1 The Festivalisation of Contemporary life (Jennie Jordan); Ch 2 The place to be … global. Local roots of world festivals (Aurélien Djakouane and Emmanuel Négrier); Ch 3 Norwegian Festivals and a Music Economy in Transition (Daniel Nordgård); Ch 4 Animating Places a New Festival Phenomenon? (Maurice Maguire); Ch 5 Visual Art Festivals and Globalisation: the rise of the biennials (Monica Sassatelli); Ch 6 Republic of the Imagination: Burning Man and the culture of radical self-expression (Rachel Bowditch); Section 2: Managing Festivals and Festival Policy: Introduction (Jennie Jordan); Ch 7 Leicester 'Festival City' or a City with Festivals (Simon Brown); Ch 8 The Evolution and Future Prospects of the Taiwan Lantern Festival (Alison Huang); Ch 9 Galway International Arts Festival: what's behind the internationalisation of a name (Silvia Guglielmini); Ch 10 Rock in Rio: the festival (Vanessa Martin); Ch 11 Building the Festival Team: A case-study of Saint Petersburg (Svetlana Puchkova and Elena Elkanova); Ch 12 Large Festivals – Great Struggles (János Zoltán Szabó); Ch 13 Community Perceptions on the Impacts of Art Festivals and its Impact on Overall Quality of Life: A case study of the Innibos National Arts Festival, South Africa (Mathilda van Niekerk); Ch 14 Valuing Arts Festivals: economic impact and the South African National Arts Festival (Jen D. Snowball); Ch 15 Festivals on the High Street: revitalising business and communities in the UK (Roberta Comunian, Lydia Fraser-Ward and Silvie Jacobi); Ch 16 Are You Having A Laugh? Comedy, a new face for festivals in the 21st Century? (Christopher Maughan and Ljiljana Radošević); Section 3: Using Festivals: Culture and Identity: Introduction (Chris Newbold); Ch 17 'Appealing for Grace': The Guinea Corn (Kayuji) Festival of Northern Ghana (Samuel Ntewusu); Ch 18 Visualising National Life: The Hornbill Festival as culture and politics (Arkotong Longkumer); Ch 19 The World's largest water fight, or the battle for the soul of a festival: Songkran in Thailand and South East Asia (Chris Newbold); Ch 20 China: rehabilitating festivals (Chris Newbold and Meng Xiang); Ch 21 Street Festivals that Change Life: festivals in Iran, Kuwait, and Belorussia (Floriane Gaber); Ch 22 A Holy Week Carnival? The Iberoamerican Theatre Festival of Bogotá (Paolo Vignolo); Ch 23 Dia de los Muertos and its Representation of 'Calaveras' in Contemporary Art and Culture (Emily Bradfield); Ch 24 Commemorating the Ancestors: performances of death at the Tucson All Souls' Procession (Rachel Bowditch); Ch 25 Off the Beaten Track: The Garma Festival in the Northern Territory Australia (Robyn Archer); Ch 26 The Parkes Elvis Festival: attendee and host community perspectives (Katie Schlenker, Carmel Foley and Eve Carroll-Dwyer); Ch 27 "We have been called Carnival People": carnival within the festive celebrations of Trinidad and Tobago (Milla C. Riggio); Index
Table of contents
Editors' Introduction: Focusing on World Festivals (Chris Newbold and Jennie Jordan); Section 1: Understanding Festivals: Introduction (Jennie Jordan); Ch 1 The Festivalisation of Contemporary life (Jennie Jordan); Ch 2 The place to be … global. Local roots of world festivals (Aurélien Djakouane and Emmanuel Négrier); Ch 3 Norwegian Festivals and a Music Economy in Transition (Daniel Nordgård); Ch 4 Animating Places a New Festival Phenomenon? (Maurice Maguire); Ch 5 Visual Art Festivals and Globalisation: the rise of the biennials (Monica Sassatelli); Ch 6 Republic of the Imagination: Burning Man and the culture of radical self-expression (Rachel Bowditch); Section 2: Managing Festivals and Festival Policy: Introduction (Jennie Jordan); Ch 7 Leicester 'Festival City' or a City with Festivals (Simon Brown); Ch 8 The Evolution and Future Prospects of the Taiwan Lantern Festival (Alison Huang); Ch 9 Galway International Arts Festival: what's behind the internationalisation of a name (Silvia Guglielmini); Ch 10 Rock in Rio: the festival (Vanessa Martin); Ch 11 Building the Festival Team: A case-study of Saint Petersburg (Svetlana Puchkova and Elena Elkanova); Ch 12 Large Festivals – Great Struggles (János Zoltán Szabó); Ch 13 Community Perceptions on the Impacts of Art Festivals and its Impact on Overall Quality of Life: A case study of the Innibos National Arts Festival, South Africa (Mathilda van Niekerk); Ch 14 Valuing Arts Festivals: economic impact and the South African National Arts Festival (Jen D. Snowball); Ch 15 Festivals on the High Street: revitalising business and communities in the UK (Roberta Comunian, Lydia Fraser-Ward and Silvie Jacobi); Ch 16 Are You Having A Laugh? Comedy, a new face for festivals in the 21st Century? (Christopher Maughan and Ljiljana Radošević); Section 3: Using Festivals: Culture and Identity: Introduction (Chris Newbold); Ch 17 'Appealing for Grace': The Guinea Corn (Kayuji) Festival of Northern Ghana (Samuel Ntewusu); Ch 18 Visualising National Life: The Hornbill Festival as culture and politics (Arkotong Longkumer); Ch 19 The World's largest water fight, or the battle for the soul of a festival: Songkran in Thailand and South East Asia (Chris Newbold); Ch 20 China: rehabilitating festivals (Chris Newbold and Meng Xiang); Ch 21 Street Festivals that Change Life: festivals in Iran, Kuwait, and Belorussia (Floriane Gaber); Ch 22 A Holy Week Carnival? The Iberoamerican Theatre Festival of Bogotá (Paolo Vignolo); Ch 23 Dia de los Muertos and its Representation of 'Calaveras' in Contemporary Art and Culture (Emily Bradfield); Ch 24 Commemorating the Ancestors: performances of death at the Tucson All Souls' Procession (Rachel Bowditch); Ch 25 Off the Beaten Track: The Garma Festival in the Northern Territory Australia (Robyn Archer); Ch 26 The Parkes Elvis Festival: attendee and host community perspectives (Katie Schlenker, Carmel Foley and Eve Carroll-Dwyer); Ch 27 "We have been called Carnival People": carnival within the festive celebrations of Trinidad and Tobago (Milla C. Riggio); Index
About the authors
Chris Newbold, Arts and Festivals Management, De Montfort University, UK
and
Jennie Jordan, Arts and Festivals Management, De Montfort University, UK
Table of contents
Editors' Introduction: Focusing on World Festivals (Chris Newbold and Jennie Jordan); Section 1: Understanding Festivals: Introduction (Jennie Jordan); Ch 1 The Festivalisation of Contemporary life (Jennie Jordan); Ch 2 The place to be … global. Local roots of world festivals (Aurélien Djakouane and Emmanuel Négrier); Ch 3 Norwegian Festivals and a Music Economy in Transition (Daniel Nordgård); Ch 4 Animating Places a New Festival Phenomenon? (Maurice Maguire); Ch 5 Visual Art Festivals and Globalisation: the rise of the biennials (Monica Sassatelli); Ch 6 Republic of the Imagination: Burning Man and the culture of radical self-expression (Rachel Bowditch); Section 2: Managing Festivals and Festival Policy: Introduction (Jennie Jordan); Ch 7 Leicester 'Festival City' or a City with Festivals (Simon Brown); Ch 8 The Evolution and Future Prospects of the Taiwan Lantern Festival (Alison Huang); Ch 9 Galway International Arts Festival: what's behind the internationalisation of a name (Silvia Guglielmini); Ch 10 Rock in Rio: the festival (Vanessa Martin); Ch 11 Building the Festival Team: A case-study of Saint Petersburg (Svetlana Puchkova and Elena Elkanova); Ch 12 Large Festivals – Great Struggles (János Zoltán Szabó); Ch 13 Community Perceptions on the Impacts of Art Festivals and its Impact on Overall Quality of Life: A case study of the Innibos National Arts Festival, South Africa (Mathilda van Niekerk); Ch 14 Valuing Arts Festivals: economic impact and the South African National Arts Festival (Jen D. Snowball); Ch 15 Festivals on the High Street: revitalising business and communities in the UK (Roberta Comunian, Lydia Fraser-Ward and Silvie Jacobi); Ch 16 Are You Having A Laugh? Comedy, a new face for festivals in the 21st Century? (Christopher Maughan and Ljiljana Radošević); Section 3: Using Festivals: Culture and Identity: Introduction (Chris Newbold); Ch 17 'Appealing for Grace': The Guinea Corn (Kayuji) Festival of Northern Ghana (Samuel Ntewusu); Ch 18 Visualising National Life: The Hornbill Festival as culture and politics (Arkotong Longkumer); Ch 19 The World's largest water fight, or the battle for the soul of a festival: Songkran in Thailand and South East Asia (Chris Newbold); Ch 20 China: rehabilitating festivals (Chris Newbold and Meng Xiang); Ch 21 Street Festivals that Change Life: festivals in Iran, Kuwait, and Belorussia (Floriane Gaber); Ch 22 A Holy Week Carnival? The Iberoamerican Theatre Festival of Bogotá (Paolo Vignolo); Ch 23 Dia de los Muertos and its Representation of 'Calaveras' in Contemporary Art and Culture (Emily Bradfield); Ch 24 Commemorating the Ancestors: performances of death at the Tucson All Souls' Procession (Rachel Bowditch); Ch 25 Off the Beaten Track: The Garma Festival in the Northern Territory Australia (Robyn Archer); Ch 26 The Parkes Elvis Festival: attendee and host community perspectives (Katie Schlenker, Carmel Foley and Eve Carroll-Dwyer); Ch 27 "We have been called Carnival People": carnival within the festive celebrations of Trinidad and Tobago (Milla C. Riggio); Index
About the authors
Chris Newbold, Arts and Festivals Management, De Montfort University, UK
and
Jennie Jordan, Arts and Festivals Management, De Montfort University, UK
Sample files
Contents, Acknowledgements, Preface.pdf
Chapter 1.pdf
Chapter 2.pdf
Chapter 3.pdf
Chapter 4.pdf
Chapter 5.pdf
Chapter 6.pdf
Chapter 7.pdf
Chapter 8.pdf
Chapter 9.pdf
Chapter 10.pdf
Chapter 11.pdf
Chapter 12.pdf
Chapter 13.pdf
Chapter 14.pdf
Chapter 15.pdf
Chapter 16.pdf
Chapter 17.pdf
Chapter 18.pdf
Chapter 19.pdf
Chapter 20.pdf
Chapter 21.pdf
Chapter 22.pdf
Chapter 23.pdf
Chapter 24.pdf
Chapter 25.pdf
Chapter 26.pdf
Chapter 27.pdf