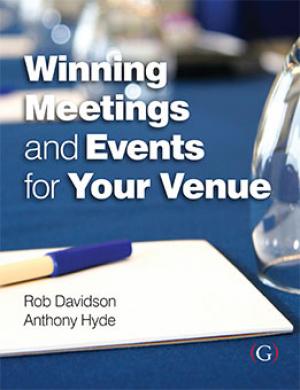 Winning Meetings and Events for Your Venue
By Rob Davidson and Anthony Hyde
ISBN: 978-1-908999-86-3 pbk; 978-1-908999-88-7 hbk
---
| | |
"... a great combination of academic research and industry expertise. Readers will find the most up-to-date research on venue sales and marketing as well as shrewd comments and observations made by industry experts... of great value to two groups of readers: professionals that already work at meeting venues and students with a major in hospitality, tourism, and event management. A valuable contribution [and] a must-read for professionals working in the sales and marketing section in the industry."
Tourism Management 50 (2015) 83-84
Meetings and events are a major source of revenue for the venues that host them. But competition to win meetings and events is growing fast as new venues, large and small, are opening up all over the world and existing venues are expanding, refurbishing and modernizing their offer in order to increase their share of this lucrative market.
However, in properties ranging from conference centres and hotels to universities and unusual venues such as museums and tourist attractions, busy sales and marketing staff often struggle to keep up to date with the many tools and techniques that can help them bring business to their meeting rooms. New staff in particular often feel the need for a structured, comprehensive guide to sources of business for their venue as well as detailed instruction on the most effective ways of winning meetings and events to fill their meetings spaces and create loyal customers.
Winning Meetings and Events for Your Venue
is the solution to these issues. It provides a clear and comprehensive guide to the wide range of techniques required by sales and marketing staff to effectively win meetings and events business for their venue. An easy-to read manual setting out the most useful and relevant techniques in a coherent and logical manner, it includes:
• Guidance on key tools and techniques from traditional face-to-face selling and negotiating skills and the use of social media to site inspections and exhibiting at trade shows.
• Case studies of transferable best practice in this field, drawn from a wide range of venues of all sizes in the UK and overseas.
• Advice from experienced sales and marketing venue managers, demonstrating original ideas that really work – and explaining why they work.
• Checklists at the end of each chapter summarizing key points and also a short quiz for the reader, to check their level of understanding of the chapter's content.
Pub Date: January 2014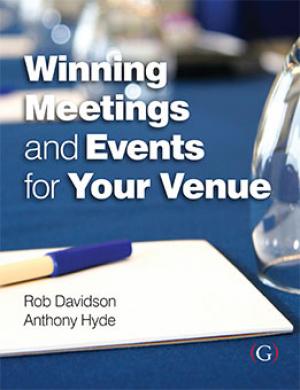 About the authors
Rob Davidson is the Managing Director of MICE Knowledge (www.miceknowledge.com), a consultancy that specialises in research, education and training services for the business tourism industry. His main areas of expertise are conferences and incentive travel, and he has written six books on these themes, including his latest publication, Winning Meetings and Events for your Venue. He also regularly writes articles for the professional MICE press, including Conference News. As Managing Director of MICE Knowledge, he has carried out research projects for a number of major business tourism organisations, including the Poland Convention Bureau, the Ireland National Tourism Development Authority, and the Society for Incentive Travel Excellence. Since 2002, Rob has been employed on a consultancy basis as Industry Analyst by Reed Travel Exhibitions, for whom he carries out ongoing research into MICE developments in Europe, The Middle East and China. At EIBTM in Barcelona each year, he launches his annual Trends Watch report on trends in the global meetings and events industry.
He is regularly invited to speak at international conferences on themes linked to business tourism, in particular to present the results of his ongoing research into MICE trends. Rob also teaches as a Visiting Professor in six European universities, where he educates and inspires students of MICE management every year. For 5 years, he has been included in Conference & Incentive Travel magazine's 'Power 50' – the 50 most influential people in the UK conference industry.

Anthony Hyde is a specialist in venue management, sales and operations. Formerly General Manager of the Business Events division at the Barbican in London, one of Europe's largest combined arts and conference centres, Anthony now works with clients internationally on all aspects of venue management, including strategic direction, business planning, design and operations. He has over 15 years' experience in the events industry and is widely recognised in the UK and beyond for his work with MPI – Meetings Professionals International, one of the principal global professional associations for the meetings industry. He was UK President of MPI's UK and Ireland Chapter during 2009/10.