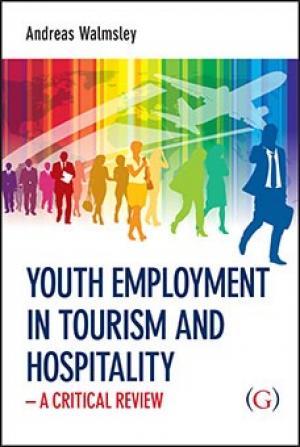 Youth Employment in Tourism and Hospitality
A critical review
ISBN: 978-1-910158-36-4 hbk; 978-1-910158-37-1 pbk
DOI: 10.23912/978-1-910158-36-4-2678
---
| | | |
In an era of continued globalisation and economic-restructuring youth employment constitutes what many commentators regard as one of the key policy issues of our time. This important new book gives the first comprehensive overview of key concepts, theories and knowledge relating to youth employment in the Tourism sector.
Specifically
Youth Employment in Tourism and Hospitality
discusses rates of youth employment in tourism and hospitality, working conditions for youth and the role of youth employment in tourism in developing countries. It explores barriers to youth employment, from both supply and demand-side perspectives. It reviews the relationship between education, training and youth employment before looking at the education to work transition through the lenses of career decision-making and career development theories. It also discusses the role of tourism internships in early work socialisation, as well as graduate entrepreneurship in tourism.
It is essential reading for those delivering and developing tourism programmes, and for students of tourism and hospitality. It also appeals to policy-makers and managers in the wide range of sectors that constitute tourism and hospitality and beyond as well as those in related fields such as education, human resources management and career guidance.
Pub Date: November 2015
204 pages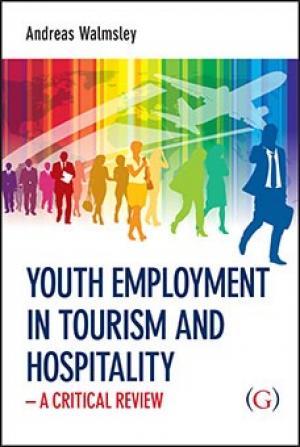 Table of contents
1 Introduction

2 Determining levels of youth employment
2.1 Youth and Employment as Social Constructs
2.2 Measurement of T&H employment
2.3 Levels of Youth Employment in Tourism and Hospitality
2.4 The Blight of Youth Unemployment

3 The nature of youth employment
3.1 Working conditions for youth
3.2 Labour Turnover
3.3 Wages
3.4 The Experience of Work
3.5 Trade Unions
3.6 Youth Employment in Developing Countries

4 Barriers to youth employment
4.1 Supply side barriers
4.1.1 Skills gaps and skills shortages
4.1.2 Attitudes towards employing youth
4.2 Demand side barriers
4.2.1 Youth perceptions of T&H employment
4.3 Initiatives to foster youth employment in T&H

5 Education, training and youth employment
5.1 Nature of T&H education
5.2 Expansion of T&H education
5.3 Education and Economic Growth
5.4 Employability
5.5 The contribution of youth to the achievement of organisational objectives

6 The education to work transition
6.1 Career Decision-Making
6.1.1 Careers and Jobs
6.1.2 The career decision-making process
6.2 Changing attitudes to employment
6.3 Education as a Sorting Mechanism
6.4 Early Work Experiences
6.5 The Role of Work Placements / Internships
6.6 Graduate Development Programmes
6.7 SMEs and Graduate Entrepreneurship

7 Conclusion
Table of contents
1 Introduction

2 Determining levels of youth employment
2.1 Youth and Employment as Social Constructs
2.2 Measurement of T&H employment
2.3 Levels of Youth Employment in Tourism and Hospitality
2.4 The Blight of Youth Unemployment

3 The nature of youth employment
3.1 Working conditions for youth
3.2 Labour Turnover
3.3 Wages
3.4 The Experience of Work
3.5 Trade Unions
3.6 Youth Employment in Developing Countries

4 Barriers to youth employment
4.1 Supply side barriers
4.1.1 Skills gaps and skills shortages
4.1.2 Attitudes towards employing youth
4.2 Demand side barriers
4.2.1 Youth perceptions of T&H employment
4.3 Initiatives to foster youth employment in T&H

5 Education, training and youth employment
5.1 Nature of T&H education
5.2 Expansion of T&H education
5.3 Education and Economic Growth
5.4 Employability
5.5 The contribution of youth to the achievement of organisational objectives

6 The education to work transition
6.1 Career Decision-Making
6.1.1 Careers and Jobs
6.1.2 The career decision-making process
6.2 Changing attitudes to employment
6.3 Education as a Sorting Mechanism
6.4 Early Work Experiences
6.5 The Role of Work Placements / Internships
6.6 Graduate Development Programmes
6.7 SMEs and Graduate Entrepreneurship

7 Conclusion
About the authors
Dr Andreas Walmsley
is Associate Professor (Senior Lecturer) in Hospitality, Events and Tourism, Plymouth School of Tourism & Hospitality (Faculty of Business), Plymouth University, UK
Table of contents
1 Introduction

2 Determining levels of youth employment
2.1 Youth and Employment as Social Constructs
2.2 Measurement of T&H employment
2.3 Levels of Youth Employment in Tourism and Hospitality
2.4 The Blight of Youth Unemployment

3 The nature of youth employment
3.1 Working conditions for youth
3.2 Labour Turnover
3.3 Wages
3.4 The Experience of Work
3.5 Trade Unions
3.6 Youth Employment in Developing Countries

4 Barriers to youth employment
4.1 Supply side barriers
4.1.1 Skills gaps and skills shortages
4.1.2 Attitudes towards employing youth
4.2 Demand side barriers
4.2.1 Youth perceptions of T&H employment
4.3 Initiatives to foster youth employment in T&H

5 Education, training and youth employment
5.1 Nature of T&H education
5.2 Expansion of T&H education
5.3 Education and Economic Growth
5.4 Employability
5.5 The contribution of youth to the achievement of organisational objectives

6 The education to work transition
6.1 Career Decision-Making
6.1.1 Careers and Jobs
6.1.2 The career decision-making process
6.2 Changing attitudes to employment
6.3 Education as a Sorting Mechanism
6.4 Early Work Experiences
6.5 The Role of Work Placements / Internships
6.6 Graduate Development Programmes
6.7 SMEs and Graduate Entrepreneurship

7 Conclusion
About the authors
Dr Andreas Walmsley
is Associate Professor (Senior Lecturer) in Hospitality, Events and Tourism, Plymouth School of Tourism & Hospitality (Faculty of Business), Plymouth University, UK
Sample files
Contents, copyright and acknowledgements.pdf
Chapter 1.pdf
Chapter 2.pdf
Chapter 3.pdf
Chapter 4.pdf
Chapter 5.pdf
Chapter 6.pdf
Chapter 7.pdf