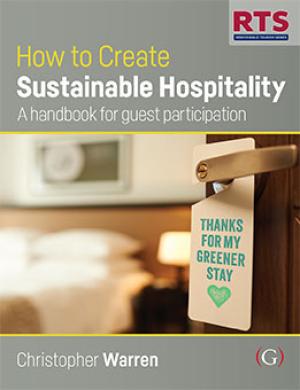 How to Create Sustainable Hospitality
a handbook for guest participation
ISBN: 9781911635659 hbk; 9781911635666 pbk; 9781911635673 eBook
DOI: 10.23912/9781911635659-5276
---
| | | |
Guests directly account for over 50% of resource use in hotels and as much as +90% in self-catering accommodation. They are quite simply the most significant factor contributing to hospitality's ongoing carbon emissions. Given the targets to reduce carbon emissions by 66% by the year 2030, it is imperative that practical solutions for the accommodation sector are created and applied fast.
How to Create Sustainable Hospitality: a handbook for guest participation
is the first text to demonstrate how to actively persuade guests to participate in achieving sustainable hospitality.
Practitioners and commentators have tended to criticise guests, believing they won't "sacrifice" while on holiday. However, social trends show there is increasing consumer expectations for more sustainable services e.g. reduction of food waste, elimination of single serve plastic, as well as firm evidence that consumption is not linked to guest happiness. The opportunity is therefore to design experiences which deliver better hospitality by inviting guests to apply saving behaviours that do not mean they will have a less enjoyable experience. Based on 16 years personally delivering sustainable hospitality experiences face to face with guests and conducting the first hard research on guest engagement at a variety of sites in Australia and Europe (from 1000-bedroom hotels and B&Bs to self-contained holiday homes and timeshare lodges), the author presents a tried and tested five step methodology on how to directly, effectively and successfully involve guests to conserve resources. This presents a new paradigm for tourism.
How to Create Sustainable Hospitality: a handbook for guest participation
presents a clearly written, jargon-free, practical solution and:
Is the first book to focus on guests as an active and critical component in sustainable consumption and production at their holiday or business accommodation;
Introduces a five-step methodology on how to directly and effectively involve guests in saving energy and water, reducing food waste and cutting carbon. It delivers a practical solution that has been successfully applied to achieve a fast ROI with scientifically measured savings;
Uses social practice theory to describe why people do not save resources and how we can better design hospitality experiences
Uses persuasive theory to explain how to communicate with guests and by so doing increase stay satisfaction, 'delight' and brand reputation;
Includes hundreds of case examples and scientific research to illustrate how the theories works in practice;
Explains "how" to change – not just the need for change.
Reviews

"… an invaluable source … original, based on experience, well researched, very readable, convincing and deserves widespread circulation." Anna Pollock - Independent strategist for regenerative tourism

"What a superb resource this is! … the focus is very much on the vital piece of the puzzle - how to communicate with guests and persuade them…" Bob Garner – Founder of EnviroRental and Owner of Casal dei Fichi

"… practical and innovative."Nicole Ouimet – Previously Environmental Manager Disneyland Paris

"…Warren's fascinatingly clever and very readable book makes crystal clear, [that] authentic action on climate change and environmental sustainability are today's non-negotiable 'must have' values."Don Morris AO – Previously Chair of the Australian Tourism Commission

"This unique book provides an invaluable practical guide."John Swarbrooke, Professor at Plymouth University, UK

"…Warren has found the way to explain sustainability as a business opportunity, not a cost, in a way that will make sense to small and large hospitality firms alike." From the foreword by Professor Xavier Font, University of Surrey- United Kingdom, and UiT The Arctic University of Norway

"…an excellent read that will help everyone in hospitality seeking to make a difference." From the foreword by Professor Susanne Becken, Griffith University, Australia

"… a refreshing source in the desert of sustainability guidebooks... Here, sustainability in tourism turns from an arduous challenge into a gain in quality, credibility and joie de vivre."Harald Friedl – Associate Professor for Sustainability and Ethics in Tourism, University of Applied Sciences, Germany

Part of the Responsible Tourism Series edited by Harold Goodwin, Director of Responsible Tourism, Institute of Place Management at Manchester Metropolitan University and John Swarbrooke, Associate Dean-International, Plymouth Global, Plymouth University, UK.

Author Chris Warren is founder and Manager of My Green Butler - read the following article where it is acknowledged as a game changer by the New Scientist.

"My Green Butler is a cloud-based system that monitors equipment connected to the internet and gives regular, environmentally friendly tips, such as suggesting guests switch off air conditioning units at night or recommending that they take shorter showers. Via computers, tablet devices or printouts, the system also advises staff to modify behaviour, such as lowering the temperature in rooms when they aren't in use.

"

To read the article in full, go to www.newscientist.com/article/mg24532743-800-ai-hotel-assistant-persuades-guests-to-use-less-water-and-electricity/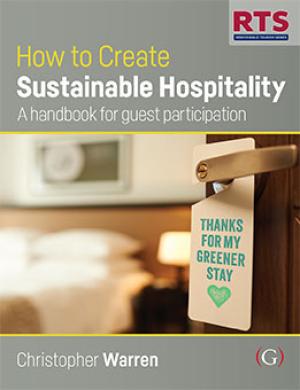 Table of contents
Introduction
Part I: Where we are now
Ch 1 The business case for guest participation
Ch 2 Re-imagining the Green Guest
Ch 3 Beyond efficiency and renewables
Ch 4 The costs of inaction
Part II: What to do about it
Ch 5 Step 1: A Green Audit
Ch 6 Step 2: Designing change in your accommodation (Materials)
Ch 7 Step 3: Teaching guests how to participate (Skills)
Ch 8 Step 4: Interpersonal communication (Meaning)
Ch 9 Step 4: Persuasion (Meaning)
Ch 10 Step 5: The eco-feedback loop (Skill)
Ch 11 The Guest R/Evolution (Meaning)
Index
Table of contents
Introduction
Part I: Where we are now
Ch 1 The business case for guest participation
Ch 2 Re-imagining the Green Guest
Ch 3 Beyond efficiency and renewables
Ch 4 The costs of inaction
Part II: What to do about it
Ch 5 Step 1: A Green Audit
Ch 6 Step 2: Designing change in your accommodation (Materials)
Ch 7 Step 3: Teaching guests how to participate (Skills)
Ch 8 Step 4: Interpersonal communication (Meaning)
Ch 9 Step 4: Persuasion (Meaning)
Ch 10 Step 5: The eco-feedback loop (Skill)
Ch 11 The Guest R/Evolution (Meaning)
Index
About the authors
Christopher Warren
PhD, MSc, Dip Ad, Trainer & Assessor (Cert IV), Founder of My Green Butler, Director of the International Centre for Responsible Tourism -Australia, co-proprietor of multi-award winning Crystal Creek Meadows, Research Fellow at Griffith University and partner in the UNEP One Planet Programme
Table of contents
Introduction
Part I: Where we are now
Ch 1 The business case for guest participation
Ch 2 Re-imagining the Green Guest
Ch 3 Beyond efficiency and renewables
Ch 4 The costs of inaction
Part II: What to do about it
Ch 5 Step 1: A Green Audit
Ch 6 Step 2: Designing change in your accommodation (Materials)
Ch 7 Step 3: Teaching guests how to participate (Skills)
Ch 8 Step 4: Interpersonal communication (Meaning)
Ch 9 Step 4: Persuasion (Meaning)
Ch 10 Step 5: The eco-feedback loop (Skill)
Ch 11 The Guest R/Evolution (Meaning)
Index
About the authors
Christopher Warren
PhD, MSc, Dip Ad, Trainer & Assessor (Cert IV), Founder of My Green Butler, Director of the International Centre for Responsible Tourism -Australia, co-proprietor of multi-award winning Crystal Creek Meadows, Research Fellow at Griffith University and partner in the UNEP One Planet Programme
Sample files
Chapter 1.pdf
Chapter 2.pdf
Chapter 3.pdf
Chapter 4.pdf
Chapter 5.pdf
Chapter 6.pdf
Chapter 7.pdf
Chapter 8.pdf
Chapter 9.pdf
Chapter 10.pdf
Chapter 11.pdf
Cover, Contents, Foreword and Prologue.pdf