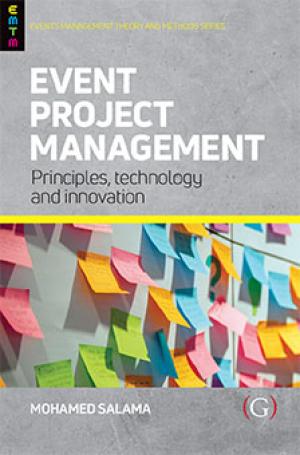 Event Project Management
Principles, technology and innovation
ISBN: 9781911635734 HBK; 9781911635741 PBK; 9781911635758 eBook
DOI: 10.23912/9781911635734-4390
---
| | | |
Event Project Management: principles, technology and innovation
provides a unique lens for studying event project management in the era of sustainability, digital transformation, smart cities and rapid development in technology. It discusses and explains how the sustainable project management model was utilised to develop a new process model adapted to the specific context of event management: Sustainable Event Management Model (SEMM).
Links the contemporary tools and methodologies in project management (such as Agile, Scrum, Lean) to the context of event management;
Explains and discusses the event management theory in an applied context, linking to sustainable project management, innovation and advanced technology;
Uses a range of international case studies to show the theory in practice;
Includes contributions from a diverse range of international experts;
Online lecturer resources to accompany in the form of teaching ppt slides, end of chapter multiple choice questions and sample questions.
With international contributions for renowned experts in the field,
Event Project Management: principles, technology and innovation
is a vital text for undergraduate and postgraduate students of event management and professionals looking to understand this vital area of the industry.
Part of the Event Management Theory and Methods Series. This series examines the extent to which mainstream theory is being employed to develop event-specific theory, and to influence the very core practices of event management and event tourism. They introduce the theory, show how it is being used in the events sector through a literature review, incorporate examples and case studies written by researchers and/or practitioners, and contain methods that can be used effectively in the real world.

With online resource material, this mix-and-match collection is ideal for lecturers who need theoretical foundations and case studies for their classes, by students in need of reference works, by professionals wanting increased understanding alongside practical methods, and by agencies or associations that want their members and stakeholders to have access to a library of valuable resources. Series editor: Donald Getz PhD., Professor Emeritus, University of Calgary, Canada.
About the editor: Mohamed Salama PhD.
is Director of Corporate Executive Relations and former Associate Head of the School of Management and Languages, Heriot-Watt University, UK. Dr. Salama has over 30 years of academic and industrial experience in project management, innovation, strategy and mergers and acquisitions in UK, Canada, France, Italy, Denmark and the Middle East.
Publication date: February 2021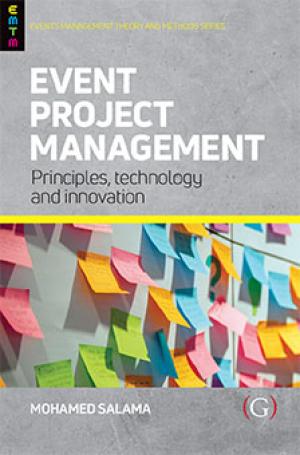 Table of contents
Introduction to the Events Management Theory and Methods Series
Preface
Ch 1 Event Management: A sustainable project management perspective
• Introduction to event management from a sustainable project management perspective
• The challenges facing event management
• A Sustainable Project Management Model - SPMM

Ch 2 Sustainability in the Context of Event Management
• Sustainability for event management
• Defining the sustainable event
• The impact of sustainable events
• Managing sustainable events
• Sustainable events: the ISO 20121 perspective

Ch 3 Traditional Project Events Management
• The event project plan (EPP)
• Charter and scope statement
• Event Organisation Breakdown Structure (OBS)
• Event time schedule
• Resource management
• Earned Value Analysis
• Quality management system
• Stakeholder engagement plan
• Integration management

Ch 4 Risk Management and Agile Project Management
• Event risk management systems
• Agile Project Management (APM)
• Lean vs Agile
• Can Agile event management eliminate risk?

Ch 5 Sustainable Financial Planning for Event Management
• Sustainable finance planning
• Sustainable development principles in event management
• Event finance planning
• Selling the event
• Financing the event
• The event budget: Predicting the financial outcome of an event

Ch 6 Financial Planning and Budgeting of Events
• Financial planning and management of events
• The financial planning process
• Costs and revenues of an event
• Event budget development
• Reporting and management of events
• Setting up financial controls and processes

Ch 7 Virtual Team Performance and Wellbeing for Event Management
• How virtual teams differ from traditional teams
• Virtual team performance
• Challenges facing virtual teams
• Conceptualisation of well-being in psychological literature
• The psychology of the emerging culture-creation industry

Ch 8 Adaptive and Sustainable Leadership for Event Management
• Why event project management / leadership is needed
• The way to sustainable and adaptive events leadership
• Conclusion and empirical evidence
• Future trends in events management

Ch 9 Sustainable Events Management Model
Background
• Theoretical frameworks
• How to use the SEMM?
• Model implementation process

Ch 10 Sustainable Business Model Innovation for Event Management
• What is a business model?
• The Business Model Canvas
• Eco-innovation of business models
• Eco-innovation of business model strategies

Ch 11 Advanced Technology for Event Management
• Data science
• Data types
• Machine learning
• Cross Industry Standard Process for Data Mining
• Business intelligence
• Artificial Intelligence
• Cyber security

Ch 12 Digital Transformation in the Event Industry
• Digital transformation background
• Digital transformation roadmap
• Digital technologies
• Digital transformation mastery
• SMAC (social, mobile, analytics, cloud) technologies
• SMAC technologies for the event industry
• Case study: Event registration using smart contract blockchain

Index
Table of contents
Introduction to the Events Management Theory and Methods Series
Preface
Ch 1 Event Management: A sustainable project management perspective
• Introduction to event management from a sustainable project management perspective
• The challenges facing event management
• A Sustainable Project Management Model - SPMM

Ch 2 Sustainability in the Context of Event Management
• Sustainability for event management
• Defining the sustainable event
• The impact of sustainable events
• Managing sustainable events
• Sustainable events: the ISO 20121 perspective

Ch 3 Traditional Project Events Management
• The event project plan (EPP)
• Charter and scope statement
• Event Organisation Breakdown Structure (OBS)
• Event time schedule
• Resource management
• Earned Value Analysis
• Quality management system
• Stakeholder engagement plan
• Integration management

Ch 4 Risk Management and Agile Project Management
• Event risk management systems
• Agile Project Management (APM)
• Lean vs Agile
• Can Agile event management eliminate risk?

Ch 5 Sustainable Financial Planning for Event Management
• Sustainable finance planning
• Sustainable development principles in event management
• Event finance planning
• Selling the event
• Financing the event
• The event budget: Predicting the financial outcome of an event

Ch 6 Financial Planning and Budgeting of Events
• Financial planning and management of events
• The financial planning process
• Costs and revenues of an event
• Event budget development
• Reporting and management of events
• Setting up financial controls and processes

Ch 7 Virtual Team Performance and Wellbeing for Event Management
• How virtual teams differ from traditional teams
• Virtual team performance
• Challenges facing virtual teams
• Conceptualisation of well-being in psychological literature
• The psychology of the emerging culture-creation industry

Ch 8 Adaptive and Sustainable Leadership for Event Management
• Why event project management / leadership is needed
• The way to sustainable and adaptive events leadership
• Conclusion and empirical evidence
• Future trends in events management

Ch 9 Sustainable Events Management Model
Background
• Theoretical frameworks
• How to use the SEMM?
• Model implementation process

Ch 10 Sustainable Business Model Innovation for Event Management
• What is a business model?
• The Business Model Canvas
• Eco-innovation of business models
• Eco-innovation of business model strategies

Ch 11 Advanced Technology for Event Management
• Data science
• Data types
• Machine learning
• Cross Industry Standard Process for Data Mining
• Business intelligence
• Artificial Intelligence
• Cyber security

Ch 12 Digital Transformation in the Event Industry
• Digital transformation background
• Digital transformation roadmap
• Digital technologies
• Digital transformation mastery
• SMAC (social, mobile, analytics, cloud) technologies
• SMAC technologies for the event industry
• Case study: Event registration using smart contract blockchain

Index
About the authors
Edited by
Mohamed Salama , Associate Professor in Management, Heriot Watt University, UK
Table of contents
Introduction to the Events Management Theory and Methods Series
Preface
Ch 1 Event Management: A sustainable project management perspective
• Introduction to event management from a sustainable project management perspective
• The challenges facing event management
• A Sustainable Project Management Model - SPMM

Ch 2 Sustainability in the Context of Event Management
• Sustainability for event management
• Defining the sustainable event
• The impact of sustainable events
• Managing sustainable events
• Sustainable events: the ISO 20121 perspective

Ch 3 Traditional Project Events Management
• The event project plan (EPP)
• Charter and scope statement
• Event Organisation Breakdown Structure (OBS)
• Event time schedule
• Resource management
• Earned Value Analysis
• Quality management system
• Stakeholder engagement plan
• Integration management

Ch 4 Risk Management and Agile Project Management
• Event risk management systems
• Agile Project Management (APM)
• Lean vs Agile
• Can Agile event management eliminate risk?

Ch 5 Sustainable Financial Planning for Event Management
• Sustainable finance planning
• Sustainable development principles in event management
• Event finance planning
• Selling the event
• Financing the event
• The event budget: Predicting the financial outcome of an event

Ch 6 Financial Planning and Budgeting of Events
• Financial planning and management of events
• The financial planning process
• Costs and revenues of an event
• Event budget development
• Reporting and management of events
• Setting up financial controls and processes

Ch 7 Virtual Team Performance and Wellbeing for Event Management
• How virtual teams differ from traditional teams
• Virtual team performance
• Challenges facing virtual teams
• Conceptualisation of well-being in psychological literature
• The psychology of the emerging culture-creation industry

Ch 8 Adaptive and Sustainable Leadership for Event Management
• Why event project management / leadership is needed
• The way to sustainable and adaptive events leadership
• Conclusion and empirical evidence
• Future trends in events management

Ch 9 Sustainable Events Management Model
Background
• Theoretical frameworks
• How to use the SEMM?
• Model implementation process

Ch 10 Sustainable Business Model Innovation for Event Management
• What is a business model?
• The Business Model Canvas
• Eco-innovation of business models
• Eco-innovation of business model strategies

Ch 11 Advanced Technology for Event Management
• Data science
• Data types
• Machine learning
• Cross Industry Standard Process for Data Mining
• Business intelligence
• Artificial Intelligence
• Cyber security

Ch 12 Digital Transformation in the Event Industry
• Digital transformation background
• Digital transformation roadmap
• Digital technologies
• Digital transformation mastery
• SMAC (social, mobile, analytics, cloud) technologies
• SMAC technologies for the event industry
• Case study: Event registration using smart contract blockchain

Index
About the authors
Edited by
Mohamed Salama , Associate Professor in Management, Heriot Watt University, UK
Sample files
Cover, copyright and contents.pdf
Chapter 1.pdf
Chapter 2.pdf
Chapter 3.pdf
Chapter 4.pdf
Chapter 5.pdf
Chapter 6.pdf
Chapter 7.pdf
Chapter 8.pdf
Chapter 9.pdf
Chapter 10.pdf
Chapter 11.pdf
Chapter 12.pdf