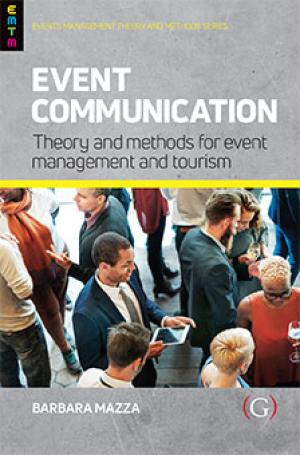 Event Communication
Theory and Methods for Event Management and Tourism
ISBN: 9781915097538 HBK; 9781915097545 PBK; 9781915097552 eBook
DOI: 10.23912/9781915097538-5667
---
| | |
Effective communication is vital in event management.
Event Communication: Theory and Methods for Event Management
focuses attention on communication studies as applied to Event Management, through the whole event management process. It pays particular attention to the latest technological innovations with the event industry including virtual events and digital technologies.
With a wealth of case studies and examples of best practice, it explains the communication process covering issues such as:
Relationship and integrated communication for the event stakeholder management;
Different typologies of users and consumer behaviour;
Communication planning and results;
Events storytelling: dramaturgy and metacommunication;
How to increase engagement and deliver immersive experiences;
Innovative digital technologies and virtual events;
Evaluating event communication.
Part of the Event Management Theory and Methods Series. This series examines the extent to which mainstream theory is being employed to develop event-specific theory, and to influence the very core practices of event management and event tourism. They introduce the theory, show how it is being used in the events sector through a literature review, incorporate examples and case studies written by researchers and/or practitioners, and contain methods that can be used effectively in the real world.
With online resource material, this mix-and-match collection is ideal for lecturers who need theoretical foundations and case studies for their classes, by students in need of reference works, by professionals wanting increased understanding alongside practical methods, and by agencies or associations that want their members and stakeholders to have access to a library of valuable resources. Series editors: Donald Getz PhD., Professor Emeritus, University of Calgary, Canada and Vassilios Ziakas, Principal, Leisure Insights Consultancy, Leeds, UK.
Publication: February 2024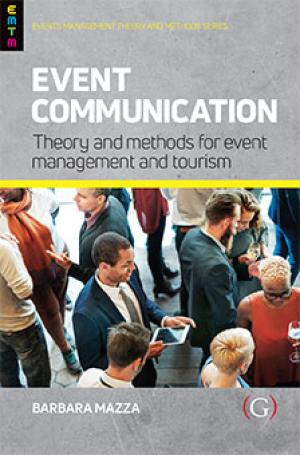 Table of contents
Introduction
PART ONE – Objectives, processes, and value creation
Chapter 1 –Event Corporate Communication
Chapter 2 – Event mix strategies and multilevel communication
Chapter 3 – Event users
Chapter 4 – Communication planning and results
PART TWO – The consumer's experience
Chapter 5 – Event communication design
Chapter 6 – From experience to engagement: theory and methods
Chapter 7 – The digital disruption
Chapter 8 – Evaluating the impacts of event communication
Conclusions
Index
Table of contents
Introduction
PART ONE – Objectives, processes, and value creation
Chapter 1 –Event Corporate Communication
Chapter 2 – Event mix strategies and multilevel communication
Chapter 3 – Event users
Chapter 4 – Communication planning and results
PART TWO – The consumer's experience
Chapter 5 – Event communication design
Chapter 6 – From experience to engagement: theory and methods
Chapter 7 – The digital disruption
Chapter 8 – Evaluating the impacts of event communication
Conclusions
Index
About the authors
Barbara Mazza
is Associate Professor (Roma, Italy) in the Department of Communication and Social Research of the Sapienza University of Rome, where teaches Communication for Business Management and Event Management and Communication. Department of Communication and Social Research, Sapienza, University of Rome