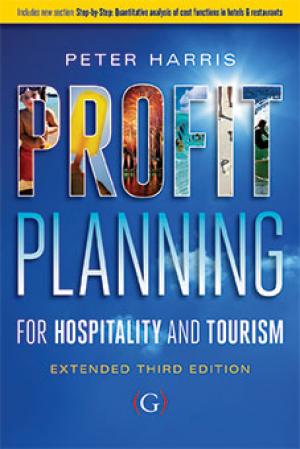 Profit Planning 3/e EXTENDED EDITION
for hospitality and tourism
ISBN: 978-1-908999-60-3 hbk; 978-1-908999-61-0 pbk
---
| | |
Profit Planning
is ideal for practicing managers, entrepreneurs, accountants and financial controllers engaged in the hospitality and tourism sectors and for students of hospitality and tourism management interested in applying theory to practice.
In particular, the content provides a complete guide to key managerial accounting techniques at the property level - the "cutting-edge" of day-to-day business decisions.
This extended edition includes:

New bullet point format, allowing the reader to 'dip into' specific methods and techniques;
New research & developments applicable to practitioners at the property (business unit) level;
New chapters, such as cost structure, incorporating the author's profit planning framework implemented in numerous hotel and tourism organisations;
A new chapter on comparing & benchmarking performance for monitoring results against competitive set;
A new chapter on customer profitability analysis for identifying customer profiles in terms of profit contributors and loss-makers;
Extensive revision of chapters, such as financial statements, flexible budgets and pricing;
Revised edition now includes a major new section Step-by-Step: Quantitative analysis of cost functions in hotels & restaurants. A concise guide to improving the accuracy of cost estimates for routine competitive bidding and transaction negotiation, where lost margins lie; enabled by software e.g. Excel. An essential tool for all those in industry.


Written in a user-friendly style, with a minimum of theory and technical jargon, it assumes readers already have a basic knowledge of accounting and financial statements.

Profit Planning demonstrates how to apply accounting techniques in practical day-to-day decisions. Examples draw directly on the author's research and consulting experience developing profit planning and benchmarking techniques for a wide range of hospitality and tourism organisations, including the Dorchester Group (and Dorchester Collection); Firmdale Hotels; InterContinental Hotels Group (Europe Middle East Africa); Myhotels Group; Raffles Hotels & Resorts; Rezidor Hotel Group; Swissôtel Hotels & Resorts (Europe Middle East Africa); Starwood Hotels & Resorts (UK, Ireland, Scandinavia & Turkey); Fȃilte Ireland (National Tourism Development Authority); VisitGuernsey (The States of Guernsey Tourist Board) and Westminster Abbey.

Essential reading for third year undergraduate and post graduate students of hotel management and professional managers, entrepreneurs, accountants and financial controllers engaged in the hospitality and tourism sectors; particularly those offering room, food & beverage and spatial-related services.

Pub Date: March 2013


About the author
Professor Peter Harris
, is Professor Emeritus in the Department of Hospitality, Leisure and Tourism Management at Oxford Brookes University. Author of numerous books and articles, his research and consulting interests include the analysis of cost behaviour, profit planning techniques and performance measurement in hotels. In 2004 at the Savoy Hotel, London, he was presented with the BAHA (HOSPA) Lifetime Achievement Award for an "Outstanding Commitment to Financial Education in the Hospitality Industry" and in 2007 he was awarded Honorary Fellowship of the Council for Hospitality Management Education for his "Contribution to Hospitality Management & Financial Management Education.