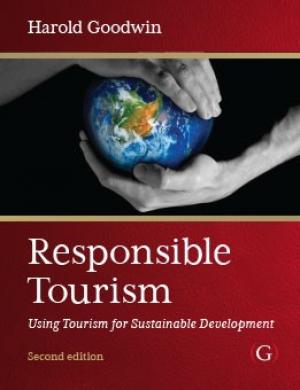 Responsible Tourism 2nd edition
Using tourism for sustainable development
ISBN: 978-1-910158-84-5 hbk; 978-1-910158-85-2 pbk; 978-1-910158-86-9 eBook
DOI: 10.23912/978-1-910158-84-5-3101
---
| | |
Over many years Harold Goodwin has been one of the champions of making sure that tourism works for the many, not just for the few. This revised version of his text updates and provides important insights into how this can be achieved. It is essential reading for those interested in how tourism should develop.
David Airey, Emeritus Professor, University of Surrey, UNWTO Ulysses Laureate
I very much welcome the second edition of Professor Goodwin's book. As somebody actively involved in tourism planning and development in Asia I very much appreciate his thought leadership in the area of responsible tourism planning and development. His professional practice and writing is based on a sound understanding of the political and economic realities together with a very sound ethical basis for his work. Highly recommended for tourism planning students as well as participants in professional development exercises. Congratulations to Goodfellow Publishers for continuing to support the dissemination of essential work in the field of tourism development.
Prof. Dr. Walter Jamieson, Thammasat University, Bangkok, Thailand
It is excellent to see this volume published in a second edition, bringing up to date the issues discussed in the first edition, and presenting the key arguments in an articulate and powerful manner.Too many books often focus on approach and procedure, omitting discussion of rationale and justification for policy, and failing to explain the ramifications of action and inaction. Goodwin tackles these problems directly and in so doing, raises questions about how tourism may be made more appropriate and less problematic for many parts of the world, illustrating his arguments with examples from his vast field experience. It is essential if sometimes uncomfortable reading for anyone seriously interested in the issues arising from tourism development and how they may be tackled.
Richard Butler, Emeritus Professor and UNWTO Ulysses Laureate 2016, University of Strathclyde
For some time now Harold Goodwin has been a leading figure in sustainable and responsible tourism, and his views and knowledge in this book provide invaluable guidance to stakeholders, organisations and individuals in the industry. This revised and updated version highlights the key areas to consider when operating tourism programmes, and its content is essential in planning and developing tourism product in future years. The book covers a broad range of issues but remains concise, clear and very informative.
Garry Wilson, Managing Director, TUI Group Product & Purchasing
Responsible Tourism: Using tourism for sustainable development 2nd edition
is about the globally vital necessity of realising sustainable tourism. It is a hugely important challenge to those who organise and sell travel and tourism, and those who consume it.
Now in its second edition, it has been fully revised and updated and includes new material to explore the following key issues: resilience, voluntourism, child protection, the challenge of disintermediation, tourism and the UN Sustainable Development Goals, slum tourism, shared value and animal welfare.
This powerful new handbook is the most authoritative contemporary overview of the key issues that are critical for the progress of responsible tourism and is written by one of the leading thinkers and change-makers in the field. It applies the broader concept of responsibility to travel and tourism, and looks at how it relates to sustainable business and the business case for responsibility.
This text is for managers and professionals at all levels in the tourism business. It will also be essential for policy makers and others responsible for strategic thinking in the wide range of sectors that relate to travel and tourism, and it should be read by all serious students of tourism who need to understand where the industry they may want to join must go in the future.
About the Author
Harold Goodwin
, Director of the Institute of Place Management at Manchester Metropolitan University and Managing Director of the Responsible Tourism Partnership.
Reviews of the First Edition (Taking Responsiblity for Tourism)
"This is a vitally important book for academics, practitioners and policy makers. It eschews some of the formality of conventional academic publishing in order to strengthen and clarify the arguments about the concept of taking responsibility for tourism and its effects. The author uses his vast experience in this area to good effect, making a powerful argument about the ways in which we should manage and develop tourism and deal with this powerful force.
This volume represents a powerful and articulate argument about the issues resulting from tourism's expansion into all parts of the world and presents a strong case about how we might manage the challenges which result from this development. It should be mandatory reading for all those interested in, studying, and producing policy relating to tourism development. It draws on the author's vast experience in studying the effects of tourism on environments and peoples and expresses clearly his challenging views on appropriate management procedures."
Richard Butler, Professor Emeritus, Strathclyde Business School, Strathclyde University
"Krippendorf and now Goodwin are the architects of modern responsible tourism. A challenging and inspiring read that defines the agenda for the next decade."
Justin Francis CEO, responsibletravel.com
"Harold Goodwin's book is a much-needed piece of research that goes to the heart of the development of what has become known as responsible tourism. It combines solid research and academic precision with the fluency and persuasion that make it an enlightening and absorbing read - of interest to the travelling public and research student alike. That an increasing number of specialist travel companies now place such responsibility as an automatic part of the commercial process is, in no short measure, due to Goodwin's thinking."
'''Richard Hearn, Chair (2005-6), Association of Independent Tour Operators (AITO).
Founder director, Inntravel, Founder director, Village Ways'''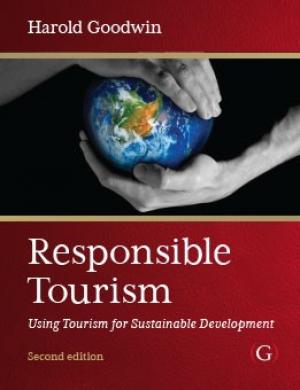 About the authors
Harold Goodwin
, is Director of the Institute of Place Management at Manchester Metropolitan University and Managing Director of the Responsible Tourism Partnership.