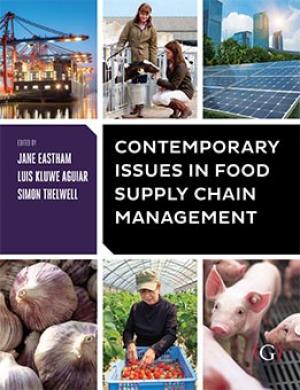 Contemporary Issues in Food Supply Chain Management
ISBN: 9781911396093 HBK; 9781911396109 PBK; 9781911396116 eBook
---
| | | |
This vital new text offers a holistic view of the factors affecting the different tiers of sustainability, public health, poverty, security and production within the food supply chain. With contributions from international experts in the field, it takes particular emphasis on growing populations and the deployment of agricultural land for uses other than food.
Designed to examine issues facing the food supply chain, including food supply and security,
Contemporary Issues in Food Supply Chain Management
considers supply security in terms of food availability, traceability, the delivery of a sustainable diet, technological changes and the impact of current governance structures. It revolves around the central theme of supply chains and the management of supply, but notes that a safe, effective food supply system is fraught with complexities, dichotomies and paradoxes.
Divided into three parts it tackles issues in the following areas:
The supply chain – problems and dilemmas
Food security and sustainability;
Case studies and new areas of research
It examines issues within these areas and highlights to the reader the level of interconnectivity and tensions in the delivery of food security and economic, social and environmental sustainability and the provision of safe and nutritious diets.
About the authors
Jane Eastham
, Senior Lecturer, Food Science and Agri-food Supply Chain Management, Harper Adams University, UK
Luis Kluwe Aguiar
, Senior Lecturer, Food Science and Agri-food Supply Chain Management, Harper Adams University, UK;
Simon Thelwell
, Associate Head of Department, Director of Ruralconsultancy, Placement Manager Business, Agribusiness and Agri-food Marketing, Harper Adams University, UK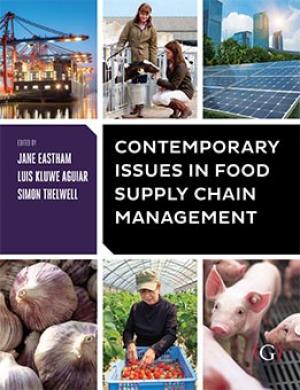 Table of contents
Part 1: The supply chain – problems and dilemmas: Ch 1 Defining Food and the Implications for Food Supply Chains (Jane Eastham); Ch 2 The Changing Consumer and the Emergence of Eco-consumption (Natalia Rohenkohl do Canto, Marcia de Barcellos, Jane Eastham and Luis Kluwe Aguiar); Ch 3 Traceability: An Essential Mechanism to Underpin Food Integrity (Louise Manning); Ch 4 Supply Chains and Horizontal and Vertical Integration: Coordination through the Food Industries (Jane Eastham); Part 2: Food security and sustainability: Ch 5 Food Resources and Human Evolution (Anne Eastham); Ch 6 Land Grabbing and Land Imperialism: Historic and contemporary perspectives (Louise Manning); Ch 7 The Global Economy: Food Security (Luis Kluwe Aguiar); Ch 8 Alternative Production Systems: Moving away from Farming the Land (Andrew M. Beacham, Jim M. Monaghan, Luis Kluwe Aguiar and Jane Eastham); Ch 9 Alternative food production: nanotechnology in agri-food applications (Frank Vriesekoop, Yongqin Wei, Renato Grillo and Hao Liang); Ch 10 The Role of Urban and Peri-urban Agriculture in Food Security and Resilience (Luís Kluwe Aguiar and Jane Eastham); Part 3: Case studies and new areas of research: Ch 11 Rural Land Use in Conflict? Energy and Food in the UK (Jonathan C. Cooper); Ch 12 Food Miles versus Lifecycle analysis: GHG – way to go!!! (Jane Eastham and Simon Thelwell); Ch 13 Current Challenges for the Pick Your Own Market – Health and Prosperity (Gabriella Parkes and Lucy Gilbert); Ch 14 British Foods and the Emergence of Local Food Initiatives (Andy Swinscoe, Eddie Andrew and Jane Eastham); Ch 15 Brexit: An opportunity for the UK to give more priority to nutrition related health in agricultural policy? (Philippa Griffith); Index
Table of contents
Part 1: The supply chain – problems and dilemmas: Ch 1 Defining Food and the Implications for Food Supply Chains (Jane Eastham); Ch 2 The Changing Consumer and the Emergence of Eco-consumption (Natalia Rohenkohl do Canto, Marcia de Barcellos, Jane Eastham and Luis Kluwe Aguiar); Ch 3 Traceability: An Essential Mechanism to Underpin Food Integrity (Louise Manning); Ch 4 Supply Chains and Horizontal and Vertical Integration: Coordination through the Food Industries (Jane Eastham); Part 2: Food security and sustainability: Ch 5 Food Resources and Human Evolution (Anne Eastham); Ch 6 Land Grabbing and Land Imperialism: Historic and contemporary perspectives (Louise Manning); Ch 7 The Global Economy: Food Security (Luis Kluwe Aguiar); Ch 8 Alternative Production Systems: Moving away from Farming the Land (Andrew M. Beacham, Jim M. Monaghan, Luis Kluwe Aguiar and Jane Eastham); Ch 9 Alternative food production: nanotechnology in agri-food applications (Frank Vriesekoop, Yongqin Wei, Renato Grillo and Hao Liang); Ch 10 The Role of Urban and Peri-urban Agriculture in Food Security and Resilience (Luís Kluwe Aguiar and Jane Eastham); Part 3: Case studies and new areas of research: Ch 11 Rural Land Use in Conflict? Energy and Food in the UK (Jonathan C. Cooper); Ch 12 Food Miles versus Lifecycle analysis: GHG – way to go!!! (Jane Eastham and Simon Thelwell); Ch 13 Current Challenges for the Pick Your Own Market – Health and Prosperity (Gabriella Parkes and Lucy Gilbert); Ch 14 British Foods and the Emergence of Local Food Initiatives (Andy Swinscoe, Eddie Andrew and Jane Eastham); Ch 15 Brexit: An opportunity for the UK to give more priority to nutrition related health in agricultural policy? (Philippa Griffith); Index
About the authors
Jane Eastham, Senior Lecturer, Food Science and Agri-food Supply Chain Management, Harper Adams University, UK; Luis Kluwe Aguiar, Senior Lecturer, Food Science and Agri-food Supply Chain Management, Harper Adams University, UK; Simon Thelwell, Associate Head of Department, Director of Ruralconsultancy, Placement Manager Business, Agribusiness and Agri-food Marketing, Harper Adams University, UK
Table of contents
Part 1: The supply chain – problems and dilemmas: Ch 1 Defining Food and the Implications for Food Supply Chains (Jane Eastham); Ch 2 The Changing Consumer and the Emergence of Eco-consumption (Natalia Rohenkohl do Canto, Marcia de Barcellos, Jane Eastham and Luis Kluwe Aguiar); Ch 3 Traceability: An Essential Mechanism to Underpin Food Integrity (Louise Manning); Ch 4 Supply Chains and Horizontal and Vertical Integration: Coordination through the Food Industries (Jane Eastham); Part 2: Food security and sustainability: Ch 5 Food Resources and Human Evolution (Anne Eastham); Ch 6 Land Grabbing and Land Imperialism: Historic and contemporary perspectives (Louise Manning); Ch 7 The Global Economy: Food Security (Luis Kluwe Aguiar); Ch 8 Alternative Production Systems: Moving away from Farming the Land (Andrew M. Beacham, Jim M. Monaghan, Luis Kluwe Aguiar and Jane Eastham); Ch 9 Alternative food production: nanotechnology in agri-food applications (Frank Vriesekoop, Yongqin Wei, Renato Grillo and Hao Liang); Ch 10 The Role of Urban and Peri-urban Agriculture in Food Security and Resilience (Luís Kluwe Aguiar and Jane Eastham); Part 3: Case studies and new areas of research: Ch 11 Rural Land Use in Conflict? Energy and Food in the UK (Jonathan C. Cooper); Ch 12 Food Miles versus Lifecycle analysis: GHG – way to go!!! (Jane Eastham and Simon Thelwell); Ch 13 Current Challenges for the Pick Your Own Market – Health and Prosperity (Gabriella Parkes and Lucy Gilbert); Ch 14 British Foods and the Emergence of Local Food Initiatives (Andy Swinscoe, Eddie Andrew and Jane Eastham); Ch 15 Brexit: An opportunity for the UK to give more priority to nutrition related health in agricultural policy? (Philippa Griffith); Index
About the authors
Jane Eastham, Senior Lecturer, Food Science and Agri-food Supply Chain Management, Harper Adams University, UK; Luis Kluwe Aguiar, Senior Lecturer, Food Science and Agri-food Supply Chain Management, Harper Adams University, UK; Simon Thelwell, Associate Head of Department, Director of Ruralconsultancy, Placement Manager Business, Agribusiness and Agri-food Marketing, Harper Adams University, UK
Sample files
Preliminary pages, contents, copyright.pdf
Chapter 1.pdf
Chapter 2.pdf
Chapter 3.pdf
Chapter 4.pdf
Chapter 5.pdf
Chapter 6.pdf
Chapter 7.pdf
Chapter 8.pdf
Chapter 9.pdf
Chapter 10.pdf
Chapter 11.pdf
Chapter 12.pdf
Chapter 13.pdf
Chapter 14.pdf
Chapter 15.pdf