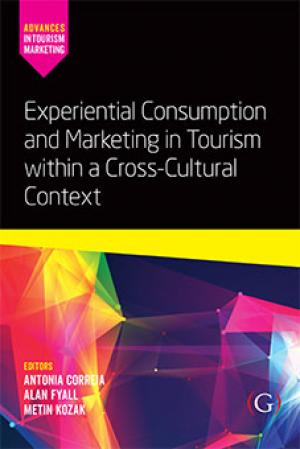 Experiential Consumption and Marketing in Tourism within a Cross-Cultural Context
ISBN: 978-1-911396-97-0 HBK; 978-1-911396-98-7 PBK; 978-1-911396-99-4 eBook
---
| | | |
"… provides advice and tips for managers in the tourist industry with the attention on destination marketing and the creation of experiences. [The book] gives an insight in different cultures and focuses on the current experience economy but gives indicators for the chance of experiences in the future and different factors which will have to be taken into consideration…a clean and appealing structure… all chapters are well designed … appealing to read."
Read the review in full here.
Journal of Tourism Futures, Vol. 6 No. 2 2020, pp. 199-200, Emerald Publishing Limited, ISSN 2055-5911 page 199, Review DOI 10.1108/JTF-06-2020-152
Culture is the entangling web of symbols, sounds, rituals, rites and practices by which we become persons and by which we can grow. Culture is often the reason for travel, and both bargain and barrier in its consumption. Underpinned by globalization, tourism is both enabling and threatening culture and its practices, as business commodifies authentic differences.
This book includes contributions that analyze and critique initiations to culture, and reports on the facilitation, celebration and sharing of culture through tourism and how each is manifested in tourism marketing theory, policy and practice. It contains case examples of the opportunities, best practices, aims, pitfalls and mistakes of those tourism businesses which have culture as their core experience as well as cases of where different tourists are engaged in exploring and learning about other cultures.
In addition, the book contains chapters on the below themes of interest where culture has contributed strongly to their outcomes: the roles of tourists, locals and communities, events, business practices in facilitating and sharing culture, relationship marketing, experiential marketing, cross-border marketing, product differentiation and market segmentation, shopping experiences, storytelling and visual narrative analysis.
Part of the Advances in Tourism Marketing series - a series of cutting-edge research-informed edited books that introduce the reader to a range of contemporary marketing phenomena in the domain of travel and tourism. Series editors: Alan Fyall, UCF, USA, Metin Kozak, Dokuz Eylul University, Turkey and Antónia Correia, Universidade do Algarve, Portugal.
Publication date: July 2019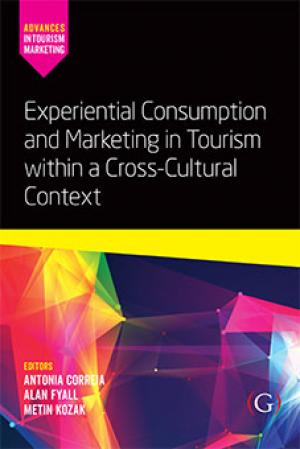 Table of contents
Ch 1. Introduction (Correia, Fyall and Kozak); PART I - Destination Experiences: Ch 2. Satisfaction and place attachment in a mature destination (Balbuena-Vázquez, Almedia- García and Cortés-Macías); Ch 3. Relationship between servicescapes and tourists' evaluation of shops: Case study of a tourist shopping district in Naha City (Uehara, Naoi and Lijima); Ch 4. Experiential components of tour guiding in package tours (Ozdemir, Cetin and Istanbullu Dincer); Ch 5. Terrorism and tourism revisited (Seabra); Ch 6. Exploring the senses from the visitors' perspectives of Cape Verde Islands (Oliveira, Correia and Moro); Ch 7. The eWOM effects on service performance in hospitality (Rassal, Correia and Serra); PART II - Motivations and Identity: Ch 8. Motivations to travel to Macau: A multi-group analysis (Bavik, Correia and Kozak ); Ch 9. Being outbound Chinese tourists: An identity perspective (Zhang); PART III - Narratives and Storytelling: Ch 10. Managing the co-creation of narratives in the heritage sector: The case of the Surgeon's Hall Museum, Edinburgh (Urquhart and Leask); Ch 11. Storytelling tourist experience promoted by the official websites of World Heritage historical centers (Frias, Silva, Joäo Amante and Seabra); PART IV - Gastronomy Experiences: Ch 12. The role of local gastronomy in destination marketing (Cetin, Okumus and Alrawadieh); Ch 13. Innovations in the wine tourism experience: The case of Marqués de Riscal (Bufquin, Back and Park); Ch 14. Understanding memorable enogastronomic experiences: A qualitative approach (Madeira, Correia and Filipe); Ch 15. Conclusion (Correia, Fyall and Kozak)
Table of contents
Ch 1. Introduction (Correia, Fyall and Kozak); PART I - Destination Experiences: Ch 2. Satisfaction and place attachment in a mature destination (Balbuena-Vázquez, Almedia- García and Cortés-Macías); Ch 3. Relationship between servicescapes and tourists' evaluation of shops: Case study of a tourist shopping district in Naha City (Uehara, Naoi and Lijima); Ch 4. Experiential components of tour guiding in package tours (Ozdemir, Cetin and Istanbullu Dincer); Ch 5. Terrorism and tourism revisited (Seabra); Ch 6. Exploring the senses from the visitors' perspectives of Cape Verde Islands (Oliveira, Correia and Moro); Ch 7. The eWOM effects on service performance in hospitality (Rassal, Correia and Serra); PART II - Motivations and Identity: Ch 8. Motivations to travel to Macau: A multi-group analysis (Bavik, Correia and Kozak ); Ch 9. Being outbound Chinese tourists: An identity perspective (Zhang); PART III - Narratives and Storytelling: Ch 10. Managing the co-creation of narratives in the heritage sector: The case of the Surgeon's Hall Museum, Edinburgh (Urquhart and Leask); Ch 11. Storytelling tourist experience promoted by the official websites of World Heritage historical centers (Frias, Silva, Joäo Amante and Seabra); PART IV - Gastronomy Experiences: Ch 12. The role of local gastronomy in destination marketing (Cetin, Okumus and Alrawadieh); Ch 13. Innovations in the wine tourism experience: The case of Marqués de Riscal (Bufquin, Back and Park); Ch 14. Understanding memorable enogastronomic experiences: A qualitative approach (Madeira, Correia and Filipe); Ch 15. Conclusion (Correia, Fyall and Kozak)
About the authors
Edited by
Antónia Correia
, Universidade do Algarve, Portugal,
Alan Fyall
, UCF, USA and
Metin Kozak
, Dokuz Eylul
University, Turkey
Table of contents
Ch 1. Introduction (Correia, Fyall and Kozak); PART I - Destination Experiences: Ch 2. Satisfaction and place attachment in a mature destination (Balbuena-Vázquez, Almedia- García and Cortés-Macías); Ch 3. Relationship between servicescapes and tourists' evaluation of shops: Case study of a tourist shopping district in Naha City (Uehara, Naoi and Lijima); Ch 4. Experiential components of tour guiding in package tours (Ozdemir, Cetin and Istanbullu Dincer); Ch 5. Terrorism and tourism revisited (Seabra); Ch 6. Exploring the senses from the visitors' perspectives of Cape Verde Islands (Oliveira, Correia and Moro); Ch 7. The eWOM effects on service performance in hospitality (Rassal, Correia and Serra); PART II - Motivations and Identity: Ch 8. Motivations to travel to Macau: A multi-group analysis (Bavik, Correia and Kozak ); Ch 9. Being outbound Chinese tourists: An identity perspective (Zhang); PART III - Narratives and Storytelling: Ch 10. Managing the co-creation of narratives in the heritage sector: The case of the Surgeon's Hall Museum, Edinburgh (Urquhart and Leask); Ch 11. Storytelling tourist experience promoted by the official websites of World Heritage historical centers (Frias, Silva, Joäo Amante and Seabra); PART IV - Gastronomy Experiences: Ch 12. The role of local gastronomy in destination marketing (Cetin, Okumus and Alrawadieh); Ch 13. Innovations in the wine tourism experience: The case of Marqués de Riscal (Bufquin, Back and Park); Ch 14. Understanding memorable enogastronomic experiences: A qualitative approach (Madeira, Correia and Filipe); Ch 15. Conclusion (Correia, Fyall and Kozak)
About the authors
Edited by
Antónia Correia
, Universidade do Algarve, Portugal,
Alan Fyall
, UCF, USA and
Metin Kozak
, Dokuz Eylul
University, Turkey
Sample files
Contents, copyright and about the authors.pdf
Chapter 1.pdf
Chapter 2.pdf
Chapter 3.pdf
Chapter 4.pdf
Chapter 5.pdf
Chapter 6.pdf
Chapter 7.pdf
Chapter 8.pdf
Chapter 9.pdf
Chapter 10.pdf
Chapter 11.pdf
Chapter 12.pdf
Chapter 13.pdf
Chapter 14.pdf
Chapter 15.pdf