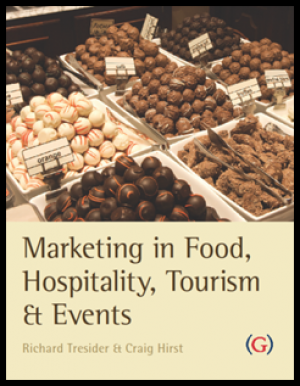 Marketing in Food, Hospitality, Tourism and Events
A Critical Approach
ISBN: 978-1-906884-52-9 hbk; 978-1-906884-22-2 pbk
---
| | |
"Beware! This is not a marketing text book – it is something much more useful and much more thought provoking. If you add only one new book to your reading lists this year you should make sure that it is this one. Then you must be prepared to go on the journey, which this critical approach will take you and your students."
Hospitality & Society Volume 3 Number 1
A unique critical approach to marketing within the food, hospitality tourism and events industries
Looks at the specific nature of marketing within these industries using international examples and theories to evaluate the language, ethics, behaviour and power relations involved
Fully supported with a route map to give the reader through the book with online resources for lecturers.
Marketing in Food, Hospitality, Tourism and Events: A Critical Approach
provides a unique and critical insight into the marketing process and begins a debate about the nature of the contemporary Food, Tourism, Events & Hospitality Industries.
Targeted at final year undergraduate students and master's level post-graduate, it takes the reader through a logical and critical examination of key marketing debates, theories and approaches and encourages readers to explore their own thoughts, ideas and opinions. It analyses areas such as consumer behaviour, power relations, sustainability, ethics, power, and semiotics and offers a contemporary examination of these industry sectors with experiential aspects of marketing and productive consumption playing an important role throughout.
Divided into 11 chapters for easy semester teaching it covers issues such as:
Consumers, Consumption and Identity
Marketing and the Interpretation Process
Semiotics and the Language of Marketing
Marketing Communications
Marketing Strategy and Reputation
Marketing and Power
Ethics and Sustainability
It concludes by offering a new approach to marketing within Food, Tourism, Events & Hospitality, synthesising the critical approach offered within this book and traditional approaches to marketing within the sector.
Publication and Prices
Pub Date: May 2012
Hardback: £75, Euro 98, US$ 120
Paperback: £29.99, Euro 36, US$ 48
E-Chapter: £4.99, Euro 5.99, US$ 7.99 each
A paperback copy is available on inspection to bona fide lecturers-conditions apply.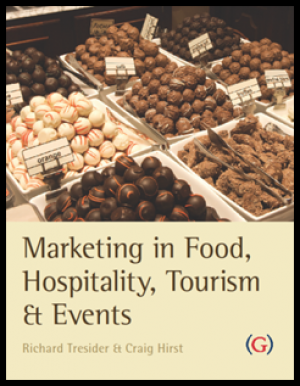 About the authors
Dr Richard Tresidder teaches marketing on the MSc programmes within the Centre for Tourism, Hospitality and Events Research the Sheffield Business School at Sheffield Hallam University. His research interests are in how people interpret marketing campaigns and in particular how signs and images give meaning to the experiences that surround tourism, hospitality, food and events. Richard has managed and undertaken research for many organisations including the Deputy Prime Ministers' Office, the Rural Development Commission and the National Trust.

Craig Hirst sits within the Food and Nutrition group at the Sheffield Business School and is course leader for the MSc Nutrition with Public Health Management. He also leads the core marketing module of the Schools Tourism Hospitality Events and Food Masters programme. Craig's expertise and research interest lay in marketing and consumer behaviour, having particular interest in the power of marketing, notions and perspectives of consumer sovereignty, social marketing, communities of consumption, and multi-paradigmatic accounts of marketing and consumers. All of these interests are mostly set within the context of food and public health. Whilst Craig's academic interests are often philosophical in nature he expects his work to have practical social, cultural, and economic utility.